Women's golf shows up in Las Vegas Showdown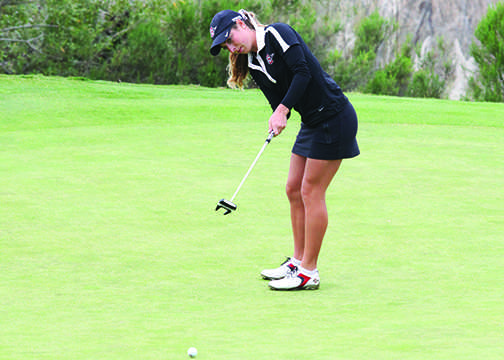 The San Diego State women's golf team defended its title at the Las Vegas Collegiate Showdown at Boulder Creek Golf Course on Tuesday. SDSU held the outright lead through the first two rounds, but fell into a tie with the University of Minnesota after a 3-over par final round of 291. The Aztecs captured their second team title of the fall season.
SDSU, ranked 24th by Golfweek, led the way after the first round thanks to a record-setting performance from freshman Haleigh Krause. Krause went bogey-free on her way to a 7-under 65, the lowest mark in the program's history since joining the Mountain West Conference in 1999. However, stiff competition saw the freshman's stellar round equate to only a 2-stroke lead on the individual leaderboard.
Krause posted a 4-under 68 in round two which helped stretch the team lead to seven strokes, despite no other SDSU player carding a sub-par round. The Aztecs' 3-over 291 was 10 strokes worse than their first-round outing.
Unfortunately for Haleigh Krause and the Aztecs, the run stopped there. Krause's commanding 6-stroke lead over junior Brittani Ferraro of the University of California, Riverside, was erased by her 5-over final round of 77. After pouring in 14 birdies in the first two rounds, Krause converted only one birdie on the par-4 7th hole.
Senior Dana Finkelstein of the University of Nevada, Las Vegas, was 9 strokes off of the pace before the final round started. Finkelstein, Golfweek's fourth-ranked player, took advantage of Krause's bad play and fired a 65 of her own to end the tournament with a 3-stroke lead and her second medalist title of the fall season.
The University of Minnesota was in fourth place after two rounds at 9-over, but advanced into a tie with SDSU after posting an impressive 10-under 278 in the final round.
It's not often that either of the two Aztec anchors, junior Emma Henrikson and sophomore Sirene Blair, miss the top 5 five. This week, both first team all-conference honorees fell outside of the top 10.
Henrikson, ranked No. 45 by Golfweek, got off on the right foot with a first round 70, but followed that up with 75 and 74 in rounds two and three on her way to a 3-over finish in a tie for 15th place.
Blair, Golfweek's 85th ranked player, was unsettled on the front side in every round, recording 11 of her 15 total bogies for the tournament on front-nine holes. Blair finished at 5-over for the tournament in a tie for 25th place.
The women's golf team will take a 16-week break through the winter and will return the course in late February to compete in the University of California, Irvine Invitational.