Aztecs leading Sea Lions 32-16 at halftime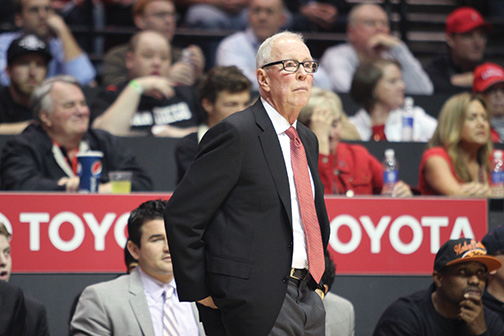 San Diego State men's basketball leads Point Loma Nazarene University 32-16 after the first half of play. By the looks of the play on the court, and the sounds from the crowd, you wouldn't think it was an exhibition game.
Junior forward Winston Shepard led all SDSU scorers with 9 points and four rebounds, while senior guard Lescault Hayden led PLNU with 9 points and one rebound. Both Aztec freshman, Trey Kell and Kevin Zabo, enjoyed their first collegiate scores. Zabo's came on an early first-half free throw while Kell's finished on a breakaway layup. Transfer junior Angelo Chol recorded his first stat as an Aztec as well, finding nothing but net on 14-foot baseline jumper.
The two teams traded buckets for the better part of the half, but hot shooting from beyond the arc kept Point Loma Nazarene within reach early. The Sea Lions were 3-4 from beyond the arc before cooling off to a 4-11 clip at half time.
If you're missing the game, stay tuned in with Twitter updates from @TheDailyAztec.