SDSU student dies from falling off rooftop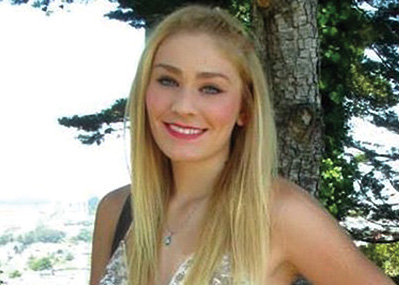 A San Diego State student died Friday, Nov. 7, after falling from the roof of Paseo Place Apartments near SDSU.
Melissa Kennon, 19, fell from the roof of the five-story apartment complex on Lindo Paseo at 3:55 a.m. and was transported to Scripps Mercy Hospital. She was in critical condition and died at 9:50 a.m.
The San Diego County Medical Examiner's Office deemed the death an accident, according to its press release.
San Diego Police Department officer Frank Cali said Kennon was with a male student on the roof and it appears she got too close to the edge, where she fell between 40 to 60 feet.
Cali said alcohol was involved.
The student that was on the roof with Kennon, whose name is being witheld as he undergoes counseling, said a set of stairs on the fifth floor of the apartment complex leads to a door that gives access to a ladder that leads to the roof.
"Everything is completely open," he said.
Paseo Place Apartments did not return calls for comment and closed early on Saturday.
Kennon was a psychology sophomore, according to a press release from SDSU.
Vice President for Student Affairs Eric Rivera expressed his condolences on behalf of the university in a statement on Friday.
"Our community is deeply saddened by the passing of Melissa Kennon," he said. "Our heartfelt thoughts and prayers are with her family, friends and loved ones, who have shared with us how much Melissa loved SDSU. It is heartbreaking when a young life is lost. We will honor Melissa by sharing strength and support with one another as we process through this difficult time."
Kennon was a member of SDSU's Kappa Delta sorority.  Sara Stelzer, who died due to meningitis in October, belonged to the same sorority.
Kappa Delta published a statement on its Facebook on Saturday, Nov. 8.
"Our chapter is deeply saddened to have lost another very special sister so soon," the post read. "Melissa will be greatly missed, but her memory will live on in all who knew her. Her family and friends are in our thoughts and prayers. Rest in peace beautiful."
In its statement, SDSU reminded students that emergency counseling is available for students affected by Kennon's death. Students can call Counseling and Psychological Services at (619) 594-5220 or visit its website.