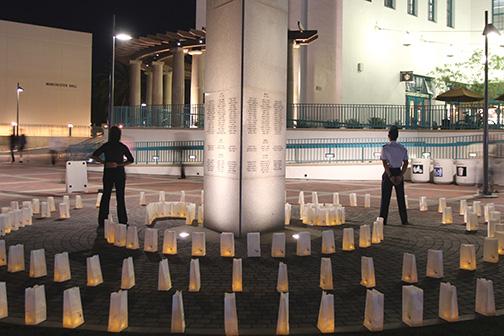 In honor of Veterans Day, San Diego State held a wreath laying ceremony on Nov. 7 to commemorate fallen Aztecs and add a new name to the SDSU War Memorial.
The ceremony took place in front of the concrete monolith for the first time in three years. The previous years the ceremony was held in front of the trolley station.
In addition to the new setting, meditation benches were added to the memorial this past year. Art department professor Jess Dominguez designed the benches.
"We are privileged that the campus architectural committee approved our addition and we invite any of you, especially students, to take time and enjoy the benches and enjoy this present spot that we have here," Chairman of the SDSU Alumni Association's War Memorial Committee Martin Wojtysiak said.
The committee honored Col. Clinton Gaty of the U.S. Army Air Forces, who was a member of Phi Kappa Delta and played on both the tennis and swimming teams. He later married fellow alumnae Helen Grace. Gaddy served during World War II, and on Feb.  26, 1945, Col. Gaty's plane went missing over Burma and was never found.
"Today we honor Colonel Gaty's bravery and sacrifice," SDSU President Elliot Hirshman said. "We can never thank our military enough for their service, for taking care of others, and for protecting our freedom. Our commitment to the values of the fallen must be as great as our sadness at their passing."
President of the Student Veteran Organization Erika Armenta and 1961 alumnus  and former Marine Dan Leonard also spoke.
Armenta shared personal stories of the strength and recovery she witnessed during her seven years of service as a naval hospital corpsman.
"We owe it to them to not take life for granted, to challenge ourselves even in the difficulties we may face, to help others and do it all with a smile and sense of humor," Armenta said.
Leonard shared his war story as well as the struggles and hope that came along with serving.
He participated in nuclear experiments on the Marshall Islands during his service in the 1950s.
"I think it is a wonderful thing that we have this sort of memorial on the campus to remember these guys," Leonard said. "Any student that comes by I want you to stop for a minute and think about saying a prayer for one of these guys and then think about the guys who I served with who are dead and say a prayer for them too."
The seven wreaths were donated by SDSU, the Alumni Association, the Veteran Alumni Association, The Joan and Art Barron Veterans Center, the Student Veteran Association, the San Diego American Legion and the Air Force Association.
Members of SVO and SDSU's Reserve Officers' Training Corps units stood watch at the War Memorial from 6 p.m. on Thursday until 10 a.m. on Friday, when the wreath laying ceremony began.
Chris Wetherington, the SVO student representative for the war memorial committee, organized the watch.
"The vigil is to remember and honor the Aztecs who sacrificed their lives for us and our country, and it is the responsibility of the SVO and the school to do that every year," Wetherington said.
SDSU is one of only a few schools west of the Mississippi Valley with a memorial that honors its student veterans that died in service.
"It's really surprising," Wetherington said. "I come from a military background and family, and the fact that so few schools remember their students that have served and died is amazing to me, because you should never forget what our service members have sacrificed and are still sacrificing."
Journalism junior Anna Conkey volunteered as a watch stander.
"As a veteran and member of the Student Veteran's Organization at SDSU, it is my privilege to represent those who have attended SDSU and then gone on to give the ultimate sacrifice while serving this country." Conkey said.  "I think this memorial is extra special because it is one of the few memorials on universities nation-wide, and I think it's important to remember our fallen comrades-in-arms, especially with Veterans Day coming up." Conkey said.
Liberal studies junior Alexa Henderson and liberal studies sophomore Faith Ryan walked by the watch standers on Thursday.
"I like how the school is recognizing the people from (SDSU) that have fought and died for our country," Henderson said.
Ryan shared a similar sentiment.
"I like that we have a memorial that honors veterans who have died all year, and the fact that the student veterans and ROTC students are out there all night is very admirable," Ryan said.
The article has been changed. It previously stated misspelled Col. Clinton Gaty as Col. Clinton Gaddy.