Aztec basketball must sharpen its spear to succeed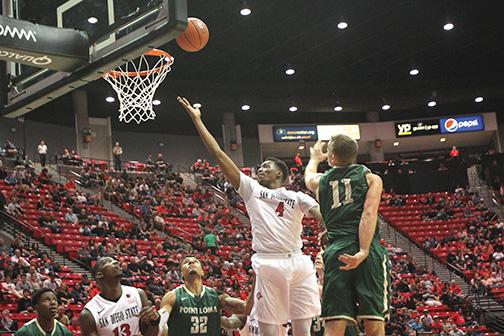 For an exhibition game, it was loud. By my guess, around 10,000 fans saw San Diego State men's basketball easily dispatch Point Loma Nazarene University 74-45 on Friday night.
Just like the Radiohead song "No Surprises," there weren't a whole lot of shocking moments for SDSU — lots of rebounds and stifling defense, but with plenty of turnovers and incompetency from 3-point range.
That's why it's a step in the right direction for SDSU. Now the Aztecs know what they're good at and what they need to improve on. They're good at a lot of things like rebounding and defense, but the offense will need to get better if they want to survive.
Here's the good: SDSU dominated rebounds and scoring inside the paint. Try a 44-28 rebounding advantage and a lopsided 52-18 advantage scoring under the bucket.
Junior guards Winston Shepard and Skylar Spencer helped the offense a ton, grabbing 10 of the Aztecs' 16 offensive rebounds.
SDSU's defense was at its usual suffocating self. Point Loma had 15 turnovers with a fair number of those caused by the Aztecs' full-court press, which senior forward J.J. O'Brien said after the game that the press could be massively improved.
The dark side of the turnover equation was SDSU's 13 turnovers; which were sometimes a result of bad passing and other times were the Sea Lions taking advantage of an Aztec team that's still getting used to playing alongside each other.
But because of SDSU's defense and size advantage, Point Loma shot a miserable 31.6 percent from the floor. The Aztecs were also at their usual standard for shot-blocks with Spencer responsible for three of SDSU's four rejections.
More good news for the Aztecs: freshman guard Trey Kell justified his starting role as point guard. He scored 10 with two assists and a smart steal that he took down the court for a two-handed dunk.
One of his assists was a beautiful pass from the 3-point line inside to Shepard who finished with a two-hand jam.
Also nice to hear for SDSU fans, the Aztecs shot 50 percent from the floor, including Shepard who went 7-14 with 16 points and 10 rebounds.
But they made an appalling zero 3-pointers. They went 0-8 and the absence of sophomore guard Matt Shrigley for the next four weeks might not help.
Shrigley suffered a dislocated elbow when he went up for a dunk and was hauled down from behind.
And the Sea Lions actually led this game with 11:55 to go before SDSU woke up and went on a run. Against a lower division opponent in Point Loma, the Aztecs got away with a slow start. But once the real season starts, SDSU will also need to start a little faster.