CSU asks SDSU to review Hirshman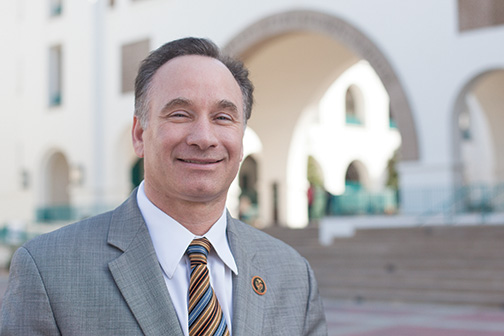 by Quinn Owen, Senior Staff Writer
November 17, 2014
San Diego State President Elliot Hirshman will be the subject of a routine review from the California State University Chancellor and Board of Trustees.
According to CSU Chancellor Timothy White's office, the performance evaluation will be comprehensive, and input from SDSU administrators on the following criteria will be included in the report:
General Administrative Effectiveness Including Management of Human, Fiscal and Physical Resources
Working Relations With the System and the Campus
Educational Leadership and Effectiveness
Community Relations
Major Achievements of the Campus and the President
Personal Characteristics
The Board of Trustees has asked for input from chairs of the Academic Senate, the Alumni Association, Associated Students and the University Advisory Board.
Students and faculty can anonymously submit comments through email. The Board of Trustees will present a summarized report to the president, according to the Office of the Chancellor. Emails must be sent to presidentreview@calstate.edu by Nov. 20.
SDSU Vice President for Business and Financial Affairs and Chief Financial Officer Tom McCarron said comments and reviews should evaluate Hirshman's performance as a whole.
"Ideally, each reviewer will consider the overall impact of the administrator versus a particular issue important to them personally," McCarron said.
After the evaluation is conducted and approved, an open letter will be sent to the campus with the findings and goals for the future.
CSU presidents usually perform well during these evaluations, CSU Web Communications Specialist Stephanie Thara said.
"It's a way for the chancellor to engage with the president and learn about the campus accomplishments or what they're doing to enhance campus activities," she said.
The evaluations will not lead to any particular awards or consequences for President Hirshman. Thara said the review will not result in bonuses and pay cuts.
Not everyone believes the review process will be beneficial. Geography graduate student Will Lapinel said administrative reviews are often pointless formalities.
"Legitimate feedback is continuous and informal, and trying to make up for a lack of communication in a formal periodic evaluation once or twice a year only results in wasted time and paper," Lapinel said.
In her five years as a communications specialist for the CSU, Thara said she has never seen a negative evaluation. She attributes this to the thorough vetting process of presidential candidates during the hiring process.
The CSU's policy requires presidents to be reviewed every three years.