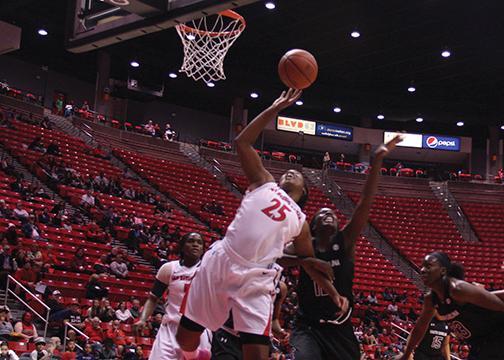 In a match of two radically different philosophies, the San Diego State women's basketball team was able to capture the victory 99-91 defeating the visiting California State University, Sacramento Hornets last Friday night in its season opener.
Heading into the game head coach Stacie Terry knew the style of play the Hornets were going to play.
"They are going to press us a lot and turn us over a lot," she said prior to tipoff. "It is going to be a very fast paced game."
Terry obviously remembers their meeting with Sacramento State last season, as the Hornets were in the full court press the entire match. This game, at times, looked more like a track meet than a basketball game.
In a fast paced, back-and-forth first half, freshman guard Cheyenne Greenhouse put her stamp on her collegiate debut as she almost went into the half with a double-double, scoring 11 points and recording nine boards.
"She provides us with a great scoring punch," Terry said in regards to Greenhouse. "She can get to the rim, she is super athletic and really tall and lengthy. She can defend the two through four and she gives us a lot of options while on the floor."
The first nine minutes of the second half were similar to those of the first, with both teams going on small runs to trade the lead. Up to the 12-minute mark in the second half there were 22 lead changes and 12 ties.
Terry's team was able to settle down and take a 10-point commanding lead to close out the game, something she attributed preparation and leadership.
At the end of the day though, both of these teams played to their strengths.
SDSU, with the clear size advantage, scored a staggering 72 points in the paint and out rebounded the Hornets 65-36.
Sacramento forced the Aztecs to turnover the ball 39 times and took an overwhelming 58 3-point attempts. The girls dressed in scarlet and black shot as many as you did: zero.
"The way they play let's us get layups, because they are pressing and trapping, so when we did break that press we made an emphasis to get to the rim," Terry said.
The Aztecs finished the game with five players who scored double digits, two of which recorded double-doubles. Greenhouse scored 19 points and snagged 11 rebounds while redshirt-junior Erimma Amarikwa tallied career-highs with 19 points and 13 rebounds.
"I just wanted to make sure I that I could contribute to my team in any way I could, be it scoring, rebounding or finding the open person," said a very humble Greenhouse after the victory.
Individually, senior point guard Khristina Hunter led all scorers with 21 points, a career best. Freshman point guard McKynzie Fort, also making her freshman debut, totaled 16 points on 6-10 shooting, while junior forward Deidra Smith scored 10 points.
Be sure to check out TheDailyAztec.com to see how the Aztecs fare against California State University, Long Beach on Sunday.