Aztecs down 18-17 against Utah at halftime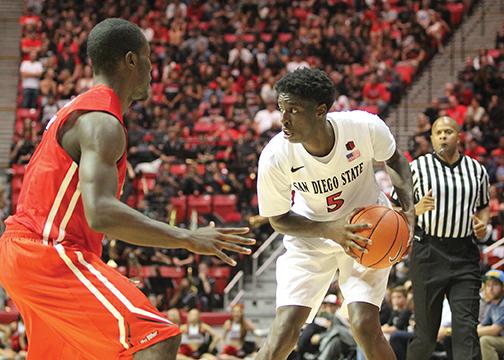 San Diego State men's basketball trails the University of Utah 18-17 after the first half of play at Viejas Arena. The building is packed despite concerns about attendance for rare 1:00 p.m. start.
SDSU hasn't been able to take advantage of poor early shooting from Utah. The Utes are just 5-22 from the field, including a thin 2-12 from 3-point territory. They also turned the ball over eight times in the half. The Aztecs are 6-22 from the floor and 2-6 from deep.
Junior forward Winston Shepard leads all Aztec scorers with six points and three rebounds, but has turned the ball over three times. On the other side, it's sophomore forward Chris Reyes leading the Ute charge with five points and seven boards.
If you're not watching the game, make sure you're following @TheDailyAztec on Twitter for live game updates.