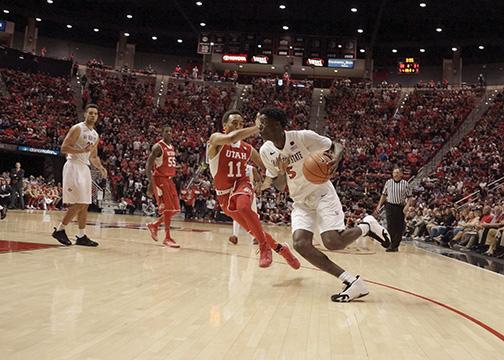 San Diego State men's basketball beat the University of Utah 53-49 on Tuesday afternoon, moving to 2-0 on the season. Tuesday's matchup was SDSU's first regular season home game televised on ESPN since Feb. 3, 2003 when they hosted the University of Wyoming.
SDSU was stingy on the defensive end, holding Utah to just fewer than 23 percent shooting from the field, including 2-12 from 3-point territory in the first half. The Aztecs' 27 percent shooting clip wasn't much better, but nine Utah turnovers helped to keep SDSU within striking distance. The Utes pulled down 22 rebounds compared to the Aztecs' 14, and went into the locker room with an 18-17 advantage at the half.
Both teams picked it up in the second and nearly doubled their respective scoring totals from the previous half, but inconsistency continued to be the dominant theme on both sides.
"Many people that don't know basketball will say that it was an ugly game—it wasn't," head coach Steve Fisher said. "We played hard. We defended in a fashion that wins, and we're going to continue to do that. We're going to make enough shots to be in every game we play."
The Aztecs never really found their stroke, but they outrebound Utah 20-16 in the half and forced another nine turnovers. Utah wasn't discouraged from its first-half shooting woes and continued to spot up from deep. Despite all the first-half misses, the Utes shot 10 more from beyond the arch in the second half and made only four.
SDSU got a huge kick in the second half from its two forwards, junior Angelo Chol and senior J.J. O'Brien. The score was knotted at 24 with just under 14 minutes left to play before the Aztecs went on a 9-0 scoring run kick-started by six consecutive points from Chol. O'Brien scored every one of his team-leading 12 points in the second half, highlighted by a perfect 6-6 on free throws in the game's final two minutes. He also pulled down 11 rebounds to notch his first double-double of the season.
Senior guard Aqeel Quinn got the starting nod over Dwayne Polee II who lost his spot in the starting rotation after showing up 10 minutes late to Sunday's practice. For the second game in a row, Quinn showed why he's such an integral part of this Aztec roster. After scoring 15 points off of the bench in Friday's win against California State University, Northridge, Quinn was tasked with guarding his former high school teammate and best friend, senior guard Delon Wright. Quinn held Wright, an offensive and defensive All Pac-12 First-Team selection last year, to just seven points on 2-13 shooting on the night. The fact that Wright didn't get his first bucket until there was 1:25 left to play in the game is a better testament to Quinn's lockdown defense.
"I was in his ear the whole game," Quinn said. "He's not going to show the frustration, but I know that going 2-13 is not going to feel good and I definitely made sure he knew. I was just trying to make sure he did not score."
Utah's 7-foot freshman forward Jakob Poeltl was held ineffective for the majority of the game thanks to great defense from Chol and junior forward Skylar Spencer. Although Poeltl brought down 12 rebounds, the double team forced the ball out of his hands and out to the perimeter where the Utes were struggling to find a rhythm. The Aztecs only allowed Poeltl three points and four rebounds in the second half.
The game tipped off at 1 p.m. as part of ESPN's 24-hour College Hoops Tip-Off Marathon. The unusual start time caused much concern over attendance, so much so that Fisher and the SDSU Director of Intercollegiate Athletics, Jim Sterk, sent out a signed letter addressed to "whom it may concern" asking for a leave from daily obligations on behalf of fans so that they could take part in a "very important community service project." Their efforts did not go unnoticed.
"You couldn't hear anything," Quinn said of the atmosphere inside Viejas Arena. "People were trying to call out switches, and I know I for sure couldn't hear any of my players on the team. It was definitely a boost of energy for us on the court."
The Aztecs will rest on Wednesday before hosting California State University, Bakersfield on Thursday night at 7:30. The game will air on Fox Sports San Diego.