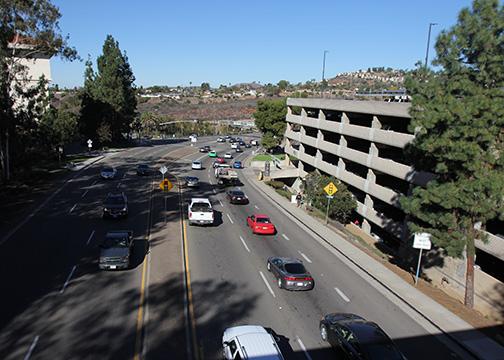 Many factors influence a student's level of participation and engagement with campus activities and organizations. One such significant factor is where that student lives in and the means he or she uses to get to campus.
The county of San Diego is not a small piece of land that's easily accessible via public transportation. Without a car, commuting to and from San Diego State can be burdensome and even costly. San Diego's inefficient and limited public transportation system only makes matters more difficult for students. Students who commute should have accessibility to inexpensive and efficient transportation around San Diego.
If students aren't stressing about traffic and rush hour in parking structures, they are depending on the trolley or the bus to get around — but the price paid by students doesn't just come from their wallets.
Robyn Adams, assistant director of Student Life & Leadership, told The Daily Aztec in October that about 25,000 student commute every day while 4,000 students live on campus.
These numbers only represent the SDSU student population.
"
It seems unfathomable that in a county with three major universities and many community colleges throughout, public transportation hasn't stepped up its game — especially considering how not all students own cars.
If one were to take the trolley from SDSU to the Gaslamp Quarter, it would take around 40 minutes one way, according to the San Diego Metropolitan System website. Keep in mind a trip from downtown San Diego to SDSU spans only about 10 miles.
If you live in an area that doesn't have an accessible trolley stop, such as the stations downtown, then heading out hours before class in the best thing possible.
For Aristote Laurent, a French exchange student studying international business, the trolley is practical in that it takes you from point A to point B. He takes the trolley every day to get to campus and describes it as slow, but in general, he likes it.
"I don't find the trolley annoying because I can study and review my homework when there is no one listening to super loud music," Laurent said.
There is a certain liberty with coming and going as you please without following any bus or trolley schedules, but the story of students that drive also has its set of shortcomings.
Senior journalism student Kellie Miller has lived in the dorms, in an apartment off-campus, in her sorority house and now lives in Pacific Beach. She thinks her time living on or near campus wasn't stressful because of her proximity to the university. Miller said to a certain degree, commuting can be a burden.
Miller said finding a parking space depends on what time her classes are, but she has to plan ahead. If she wants to work out at the gym, she takes her clothes and equipment. If she wants to prepare food at home instead of eating out, she plans accordingly. Miller said living near or on-campus definitely takes off a lot of stress. Most of the time, driving back and forth to Pacific Beach isn't worth it for Miller.
Students pay $135 for day-only parking passes each semester, not including the price of gas of course. If they register for classes during times that are considered peak times, such as 9-11 a.m., then finding a spot can be fatiguing and time consuming. Closing one or more parking structures for events such as basketball tournaments is only the cherry on top for an already hot issue at SDSU.
For students taking the trolley, a semester pass costs $153 and a lot of time waiting around. The trolley in San Diego barely covers 54 miles on three lines. San Diego County is home to 3.2 million people and only 54 miles are covered by the trolley? In what world is this enough to support a hefty student population? Is it crazy to think that students might me more inclined to pay for the trolley if it actually took them where they need to go?
The lack of an efficient and comprehensive transportation system in San Diego causes problems and inconveniences students. If living on or near campus isn't an option, then students are forced to adapt to peak times in the parking structures, or be dependent on slow trolleys and buses to get to campus.