Students feed San Diego homeless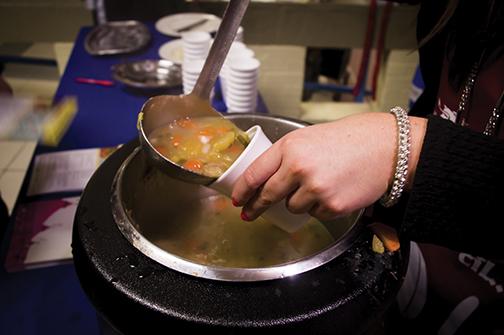 A group of student volunteers gathered at the St. Vincent de Paul Village to feed the homeless on Nov. 25. The event was coordinated through the Aztec Unity Project, an organization at San Diego State that arranges charity events once a month for students to participate in. AUP offers students the opportunity to learn about and volunteer non-profit organizations within the community while building connections with fellow students.
The student volunteers represented  several different on-campus organizations, including the Pre-Dental Organization, the Pan-Hellenic Association and the Pre-Professional Health Organization. Some volunteers noted prior community service experience with programs such as Habitat for Humanity, Relay for Life and local animal shelters.
Student volunteers said they participated to give back to the San Diego community, network with other participants and make a difference in someone's life.
The event was held at St. Vincent de Paul Village, a homeless shelter in San Diego, whose mission statement is to "end homelessness one life at a time," according to its website. The shelter gives out an average of 4,000 meals a day and also offers the homeless occupants a culinary arts program to further develop a career in that field.
At St. Vincent de Paul Village the student volunteers cooked dinner for the homeless and also had the opportunity to sit and eat with some of them.
"A particular moment that stood out to me was when we had the opportunity to sit down and eat with an individual who had just received a meal from us," international security and conflict resolution senior Garret Austin Hein said. "He went on to ask all of us about who we were, what interests we had and finally emphasized to us that we are all the future of this world."
After the event Hein felt excited and he encouraged other Aztecs to get involved in community service.
"I felt so stoked after this event, it is almost impossible to feel any other way when you are in service to others and learning about the stories of individuals who come from different paths in life." Hein said. "There is nothing to lose when doing community service, volunteer work or philanthropic events. There is only something to gain and that is to live life more humbly, with more love and with more happiness."
The day before the event the student volunteers gathered in the Center for Leadership and Community Service room of the Conrad Prebys Aztec Student Union for a meeting. There the student volunteers introduced themselves, were given an in-depth look into the organization they would be working with and watched a short documentary about a homeless teenage girl living in San Diego.
According to the Regional Task Force on the Homelessness, a federal funded campaign to gather data on the homeless population in San Diego totaled 8,879 in 2013.