SDSU clinches fifth straight bowl game with win against Spartans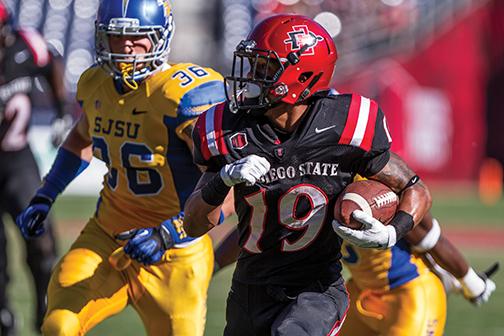 Needing a win to secure a fifth straight bowl appearance, San Diego State thumped the California State University, San Jose Spartans by a score of 38-7 on Saturday afternoon at Qualcomm Stadium.
It was a career day for sophomore running back Donnel Pumphrey, who has been the Aztecs ringleader on offense all season as he played his best game of the year.
Pumphrey finished the game with 22 carries for a career high 267 yards and three touchdowns, fueled SDSU's offense in the blow-out win.
"The offensive line picked it up all year," Pumphrey said in the post-game press conference. "They've been able to open up holes in their big lanes, and all you see is green, to be honest. I was able to make a couple guys miss and hit the hole."
Big lanes may have been an understatement, as Pumphrey took advantage of the Spartans defense early and often.
Just in the first quarter, Pumphrey racked up 150 rushing yards and a touchdown, which had him on pace to break the NCAA Division I single-game rushing record.
Pumphrey then promptly scored in the opening minutes of the second quarter giving him a Madden-like stat line in the early stages of the game.
"I think what's most amazing about this is that since the first two weeks of the season, everybody is stacking their defense to stop the run," head coach Rocky Long said. "And in order to still be able to run that well, you have to have good running backs which we do, but good running backs don't show up unless somebody's blocking."
With a large lead at hand, Long  "called off the dogs" and let junior running back Chase Price take over rushing duties for the rest of the first half. Price didn't give the defense much of a break, though, finishing the game with 22 carries for 93 yards and a touchdown.
The rushing attack was not the only unit on SDSU that played an exemplary game.
After shutting down Air Force Academy last week, the defense was at it again stifling the Spartans offense all game.
Heading into halftime, the defense had shutout SJSU, allowing just 108 yards of total offense. If not for a 34-yard touchdown by the Spartans in the fourth quarter, the Aztecs would have kept their opponents scoreless for six straight quarters to close out the regular season.
"We get after it practice all week long," sophomore safety Malik Smith said. "The scout team gives us a good look and coach (Long) makes sure he gives us a good look so I think that had a lot to do with it all through the season."
Now, all the Aztecs have to do is wait as they prepare to hear their destination for their program-record fifth straight bowl appearance.
There's no telling where SDSU is heading, but Long has his fingers crossed that his team will get to stay home at Qualcomm Stadium to play the United States Naval Academy in the Poinsettia Bowl.
"I'd love to stay home, because I think it's a classy bowl (game), and I think they do everything for the team and the players," Long said.  "It's really first class because we've been there a couple years ago, and it's as nice a bowl game as I've ever been to. We'd love to stay home if they would have us."
No matter where the Aztecs end up, they will have made history for the SDSU football program.
"I'm happy for the program because it's going to be our fifth-straight bowl game, which sometimes people will say that's not no big deal, but I've been coaching a long time, and guess what? It is a big deal," Long said.
Read about the Aztecs second-most recent victory against Air Force Academy on Nov. 21 here.