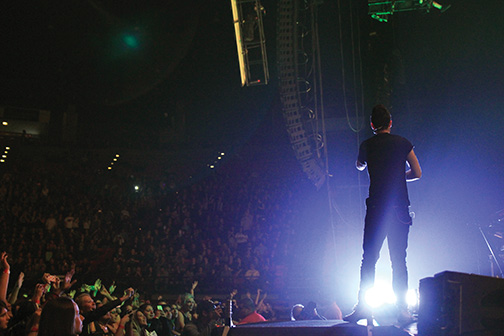 Here at San Diego State, students have the benefit of both the Cal Coast Credit Union Open Air Theater and Viejas Arena conveniently located on campus. Both venues hold frequent concerts, hosting artists of various genres, but given the hefty price tag of these events, their location is the only convenience.
One of the first things I heard about upon arriving to SDSU was about the concerts offered to State students.
With the thousands of dollars spent by each student to attend SDSU, a few perks doesn't seem like a lot to ask for. Concerts on campus are a clear profit margin for SDSU, but they could still make money if they charged a lower rate for students.
As far as ticketing goes, the only discounts are for theme parks, movie tickets, trolley cards and sporting events — for which case the tickets are only free if students get to the box office early and wait in line for them.
"When I started school here my freshman year, you got at least ten percent off concert tickets if you purchased them at the box office and showed your student ID," business graduate Jason Scott said. "That was over four years ago now, but I don't know why or when they stopped offering the discount. To a college student with not much spending money, that discount was the deciding factor in most of my concert ticket purchases over the past few years."
I decided to figure out exactly where the benefits of being an SDSU student lie in regards to purchasing tickets.
The only discount students can receive is the same discount anyone can if they take the time to visit the box office.
Basically by purchasing a ticket from the box office, an individual only saves the cost of a service fee. Ticketmaster, and most other online ticket purchasing websites, charge at least seven dollars for service fees.
So if tickets are purchased directly through the Viejas Arena Box Office that service fee is waived.
According to Viejas Arena and Cal Coast Credit Union Open Air Theater, only two discounts aside from the waiving of the service fee have been offered in the past 10 years.
"I don't see why we don't still get at least some kind of benefits to attending school here," biology freshman Cassie Ruble said. "I have friends who go to quite a few different schools and all of the ones who have concert venues on campus get discounts. Any discount makes a difference to us, so why don't they want to encourage us to attend the concerts? I just don't understand their logic."
To put ticket prices in perspective, an SDSU student could spend the same amount to see Maroon 5 at Viejas Arena in April 2015 as they could for the same concert in Vegas.
If the prices don't make a difference, what's the point of attending concerts on campus?
If SDSU wants to raise profits earned from ticket sales, a student discount is absolutely necessary. Since discounts have been offered on occasion in the past, the possibility of this suggestion isn't a question.
Students make a large chunk of the attendees of these events, and rightly so, so why not cater to them a bit?
SDSU students deserve to attend concerts at their own school with some sort of advantage.