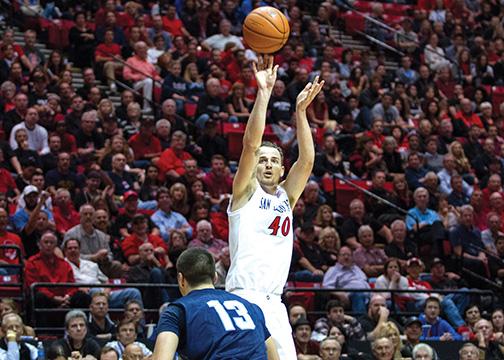 San Diego State head coach Steve Fisher said his team played two games last night, "the bad game and the good game," during its 57-48 victory against the University of San Diego Toreros (4-4).
The bad game, he said, included No. 13 SDSU's 10 first-half turnovers and its 48 percent shooting from the free throw line. One could also throw the fact that the Aztecs (6-1) made just six shots in the second half into the "bad game" category.
The good game, he said, included SDSU's smothering defense, its 6-11 3-point shooting and its depth, which allowed nine players to log at least 13 minutes. The Aztecs also grabbed 15 offensive boards, nearly half of their 32 missed shots.
"Obviously we need to improve on the things I talked about that weren't good if we want to be really good," Fisher said. "(But) don't disregard (University of) San Diego. They're a good basketball team and they're going to win a lot of games. We won the game tonight and we're proud of that fact."
No surprises with SDSU's defense last night, which held a Torero team scoring 72 points per game on 47.5 percent shooting to just 48 points on 36.5 percent.
Early on the Aztec offense looked functional, too, a rare sight for SDSU fans who'd seen their team score 51 and 53 points in the previous two home games.
SDSU held a commanding 24-12 lead when junior forward Skylar Spencer tipped in freshman guard Trey Kell's miss with 8:28 to go in the first half.
But then the Aztecs' home-style offense kicked in, and Fisher's squad failed to score another point until senior forward Dwayne Polee II knocked in a jumper from the elbow with 2:08 left in the half.
The infamous SDSU offense didn't look any better in the second half, shooting just 26 percent. But, as usual with this team, the defense covered for the lack of consistent scoring and the Aztecs beat the Toreros for the ninth straight time.
"We just want to win, and with defense you can do that, no matter how bad we play on offense, or how many missed free throws," Kell said.
SDSU's defense did especially well containing senior guard Johnny Dee, who entered last night scoring 21 points per game, holding him to 16 points on 5-12 shooting.
Polee and sophomore guard Dakarai Allen guarded Dee most of the night with senior guard Aqeel Quinn out with a broken left ring finger.
"(Dee) scores in so many different ways," Polee said, "I just tried to try my hardest to stay on his tail and try and make it as hard as possible for him."
Polee played well on both sides of the floor and finished with 14 points, his biggest scoring output of the year.
Senior forward J.J. O'Brien continued his quality play this season, scoring 13 points and grabbing four rebounds.
Next, the Aztecs travel to Seattle this Sunday to play the University of Washington Huskies (6-0).
Washington is off to a thunderous start, recently winning the 2014 DIRECTV Wooden Legacy tournament – the tournament that SDSU won last year.
Sophomore guard Nigel Williams-Goss, who some thought would be a one-and-done last year, is scoring nearly 15 points per, game and dishing out almost eight assists per game. Junior forward Winston Shepard knows Williams-Goss well as the two played together at Findlay Prep High School in Henderson, NV.
The Huskies also have some strength and size in the paint, led by 7-foot junior center Robert Upshaw. The junior only plays 16.8 minutes per game, but he averages four blocks per game. He blocked seven shots in 19 minutes against San Jose State University earlier this season.
Upshaw will match up against Spencer, who averages 3.7 blocks per game in 23.7 minutes on the floor.
SDSU beat Washington last year at Viejas Arena 70-63. That score is a little deceiving, though; the Aztecs trailed 30-21 at halftime and had to outscore Washington 49-33 in the second half to seal the win.
The Huskies return seven players from that team. Those six players scored nearly 60 percent of Washington's points last year.