The State of State: President Hirshman discusses salary, sexual assault, mascot and more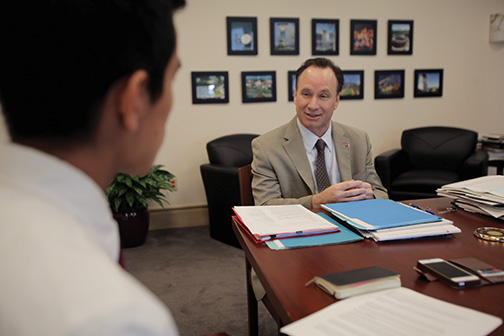 The Daily Aztec sat down to speak with President Elliot Hirshman about prominent issues the university faced this semester. For a full, unedited transcript and audio recording of the interview, please see the bottom of this page.
National rankings
What you need to know: SDSU was ranked No. 149 among national universities and No. 78 among public schools in the latest U.S. News & World Report rankings.
The Daily Aztec: I was wondering what you attribute the success in rankings to?
President Elliot Hirshman: First I want to make a clarifying comment, which is I think sometimes when we look at going up the rankings, we can be mislead and think that it's the ranking that really matters. Now of course the ranking is important—it's publicity for us, it helps people learn about us, but really what's more important is the substance that underlies and drives the ranking. And I think when you look at how we've been changing as an institution, what you see is our academic reputation has been rising, student achievement has been rising, connections with our community, particularly our alumni community, has been increasing, and that has impacts on fundraising, and also in our broader community. And those are the things that have been driving the ranking higher. So, I anticipate with the momentum we have in those areas that that ranking will continue to rise over time.
Study abroad initiatives
What you need to know: SDSU was ranked among the universities with the top study abroad programs. This year semester there is a new student organization that pairs up international students with San Diego State students as part of a "buddy" program.
DA: Why do you think this is a priority for the university?
EH: The world has changed. When I was 21 I had never even been on a plane. People lived in a regional world, and with a variety of developments, but particularly deregulation of airfares and the reduction in cost, as well, obviously, as the spread of information thorough information technology, the world has become radically globalized. So I encourage every student to have an international experience, every student to engage and to think about how, as they're preparing professional and personally, what will be the international dimension? What will be the global dimension of their work? I use the example of social work, where social work in some way might be seen as the most regional of fields. It's outreach to your immediate and support for your immediate community, but with the globalization, migration mobility patterns, for social work now, there's an issue of engaging across vastly different cultures. So the social worker who works in City Heights today deals with an entirely different set of people from different ethic backgrounds than probably a more homogeneous past.
Sexual assault
What you need to know: More than 15 sexual assaults have been reported to the SDSU Police Department this semester. SDSU has created a Sexual Violence Task Force, among other initiatives, to combat the issue. The InterFraternity Council recently suspended social activities after allegations that fraternity members harassed demonstrators during an anti-rape rally. The university is investigating the allegations. On Tuesday, a student was arrested in connection with a sexual assault, marking the first arrest of the semester relating to a sexual assault case.
DA: What do you think the biggest challenge is for the university as it tries to combat sexual assault?
EH: I think it's very important to have conceptual clarity that there are two important issues. And one is a policies and procedures issue. So, are we structuring our policies, our approaches, our procedures so that we are protecting people? So that we're taking every step we can to make sure that when someone comes with an allegation that it's thoroughly investigated? That we're supportive of people? Obviously at the same time we're trying to protect the rights of the accused. We try to be sure that both of those are accomplished.
But there's a second piece, which is about cultural change and changing people's attitudes, their behaviors, their perspectives. And I think we have to think about both of those in integrated fashion. If we have the best policies and procedures of any university, but every student on campus has a perspective that is not preventing and discouraging and stopping sexual assault, we're not really going to make the progress we need to make … So, just as a coincidence, we're actually discussing this in cabinet this morning just for the purpose of saying let's open up to anyone on the cabinet, do you have any ideas about what we might be thinking about? I think we're having a good campus discussion. Obviously some people are more focused on blame and some people are perhaps a little defensive, but we need to get focused on both best policies and practices we can pursue, and then take it seriously. How do we have to change our culture in order to make progress? Obviously it's one of the most pressing things affecting the campus.
DA: In an email you said, "The university is committed to working with, and supporting, our Greek community as it pursues these essential efforts." And that was regarding educating its members. Can you talk a bit about how the university will work with the Greek community?
EH: Student Affairs has a division, Student Life and Leadership, and there are administrators who work with the Greek community on a regular basis to address a whole range of issues that arise, and so they are engaging in a discussion now to say, 'What are some of the things that the Greek community could do right away.' I don't think it's a secret to anyone that alcohol plays a role in many of the reported sexual assaults, so thinking about our attitudes and approaches towards alcohol, that would be a positive. Where we will end up, I'm not quite sure right now, but I think people are thinking about, is there excessive use of alcohol? What might we do to reduce that use? And then hopefully that becomes part of the cultural change that affects sexual assaults on the campus.
DA: Why do you think it's so difficult for the university to communicate what it is doing to the students (regarding sexual assault)?
EH: The world is very different than it was 30 years ago. Thirty years ago people got a letter in their mailbox, they would open it and read it. Today … you have email, and then you have Twitter, and then some of the older generations have Facebook, and then there's people going to Buzzfeed, and so on. And people's attention is spread across many media. So it is challenging to get messages across, and part of it is we are trying to engage in social media efforts to reach out to people. Another part of this, as a result of the same development, is people are getting sources, they're getting information from many different sources of many different levels of reliability, but they don't necessarily know that. So someone will hear, somebody Tweets out "University does nothing on sexual assault." They'll then not necessarily look at that critically, they'll say, 'Oh, that must be a reliable source, the university is doing nothing,' so they've already got an idea that we're competing against. So a big picture it's more and more important for us to be communicating more and more and to be getting the word out through multiple channels, but also working more and more closely with media. And to be blunt, media also taking its responsibilities to be accurate. That has been in this proliferation of information—and obviously in challenges to the media business model—there've been changes in the way the media is operated and so I think if we all work collectively we can do a better job. And that's often the theme. So if you look at any of these issues, whether it's controversies over sexual assault or salary issues or international programs, it always comes down to articulating a vision and then trying to work collaboratively as a community to work forward.
Aztec Warrior mascot
DA: Do you think Associated Students made the correct decision by not approving the resolution to change the Aztec Warrior?
EH: So one of the things I think about his whole discussion is, are we showing appropriate respect to people and are we energizing our community? I'll just share that I think if we think of the Aztec Warrior as a spirit leader, as a representation of certain virtues that we want our athletes and our community to emulate, then we're going down the path of respect. I think that's what implicitly the vote recognized. The vote was overwhelming from the student perspective. And as I say to my leadership team, whenever we see something coming out of the student body that is overwhelming one way or the other, that's something we have to understand and respect, and I think this is what that vote was reflecting, is that people do believe in this notion of embracing a spirit and an ethos, a way of looking at things, and that's particularly appropriate for our athletic teams—the notion of competition, being bold, and that's really represented by the Aztec Warrior.
Salary increase
What you need to know: Hirshman, along with other California State University executives, received a $12,000 salary increase. The salary was approved this semester, during which the Student Success Fee went into effect.
DA: I wanted to ask if you think it's justifiable to increase a president's salary in the same semester that students face increased tuition.
EH: It's really important for people to understand that the (Board of Trustees) sets our salaries, and it tries to consider a broad range of factors when it sets them. So on the one hand, they want to understand what is the market for compensating people of these roles? How do you evaluate it in a national market? On the other hand—and I think they really work hard at this—they try to be sensitive to issues of local culture and perception. And the presidents as a group had not received a raise since 2011, and the board looked at that, and in the context of all of those factors, they decided to give everyone a 3 percent raise, and that's what transpired. I do think the board is sensitive to people's concerns about these issues, and if people think it's the wrong thing to do, they can of course share their perspectives with the board, and I do think the board takes it very seriously.
DA: So the board looked into the Student Success Fee and took that into account as well?
EH: That's a really good point. The board is the group that is responsible for taking a broad range of issues into account. So they look, for example, at tuition every year, they look at Student Success Fees, they look at overall budget that the university is receiving from the state and other sources, they look at our financial aid policies, and they try to reconcile as best as they can all of those competing interests and that is obviously very challenging to both be responsive to market issue constraint issues as well as a variety of popular voices.
DA: And another factor that was mention was that it was important to have competitive salaries for presidents. Is that something you agree with?
EH: I think that's where the board has to consider these issues and make their judgment. I think it's a very important thing for people to recognize that that the reason we have a board is that we want to have someone who on all of these issues, on tuition, on Student Success Fees, on issues of whether we build a building or not, we want to have someone who isn't a party to the decisions and can based on their experience and intentions, try to make the best judgment possible, and that's, I think, what they try to do, on this issue as well as all the issues that they face.
Transgender bathrooms
What you need to know: Transgender students have expressed the need for more gender-neutral bathrooms.
DA: How does the university assure it caters to students who face sensitive issues?
EH: I'm not sure there was as much awareness let's say 10 years ago of the issues students are facing, and we are making progress on this. There's a commitment to add more gender-neutral bathrooms. What we're wrestling with is what's the best way to do it? So one of the ideas that I've talked to my colleages about … is taking a map of the campus and looking to see where there are buildings or areas where there isn't currently a gender-neutral bathroom, and then begin to find those areas and renovate them in turn. It is surprisingly expensive to renovate a bathroom, but I think the commitment is there. Just to give you a sense, renovating a bathroom can cost as much as $300,000, so the commitment is there. And I think the Facilities people have worked in good faith to move it forward and I think they'll follow that commitment to do even more.
DA: So the university is working on adding new bathrooms at the moment?
EH: Oh absolutely. Absolutely. Yeah. Sometimes there are a lot of voices on issues, and there can be confusion as to exactly what is going on. That's why on any area that is controversial, it's really important for the university to have something that you as a news source can go to and say, 'Okay this is the university's perspective on this, or this is the university's commitment' rather than a cacophony of voices, which is sometimes confusing.
Homeless students
What you need to know: A group of students, including several who said they were homeless, held two protests this semester to demand that the university do more to support students who are struggling financially.
DA: Can you talk a little bit about plans to better support students who are underprivileged or how the university plans to address the issue?
EH: The first thing to clarify is that if any students are having the challenges that are being discussed, we really encourage them to come to Financial Aid and to have a discussion with us to see if they're able to access all of the programs we have. We have a broad, broad range of programs. I was stunned—there was an article in the Aztec today where one of your reporters said that something along the lines of there's $7million dollars in financial aid at the university. There's hundreds of millions of dollars in financial aid and other support at the university, so the lack of understanding is problematic because it may be that students don't know what they can take advantage of. So for example, even students who don't qualify for federal programs, we have state programs—both state university grant and cal Grant—and we now have a short-term loan program. We also have short-term loan programs for students who have holds, or registration holds. So the range of programs, and I'll give you just a couple statistics so you have a sense of it, but it's really important for students to know: The university disperses $55 million in cash to students. I'm not saying discounting tuition or any program that affects tuition, this is actual cash that we give to students. That $55 million is $5 million more than last year, so there's a pretty significant set of financial aid programs. We have about $41 million dollars in state university grant programs, and that's a straight tuition waver, so it just basically says you don't have to pay your tuition. We have 40 percent of our students are Pell eligible. We also have very significant in the tens of million program for Cal Grant that are allocated. And then obviously there are both subsidized and unsubsidized student loans that people can take, and if you're in certain income ranges, that's a subsidized loan—that means you don't have to pay the interests while you're in school. So I think it's of course a challenge for anyone that faces a financial challenge, but we have a lot of resources here and we want to be sure we put students in touch with them. Let me comment a little bit on the question of whether we should have a food pantry, because I think people have talked a lot about that.
DA: On campus.
EH: Yeah, on campus. And one of the things that I think is very important is that students who face financial challenges shouldn't be separated or stigmatized in any way, and so as we think about issues like this, we want to think, of course, about what's the most effective way to have the program, but also how do we have it in a way that it doesn't in any way signal a separateness for the student? So when people talk about a food pantry, if I had to choose between allocating people more financial aid dollars, though whatever mechanism so that they could do what they need to do to be successful versus setting up a separate entity that students go to, I much prefer, in the spirit of integration, to allocate more dollars. The other aspect, which is important for students to be aware of, when you talk about setting up an organizational structure, you're then paying hundreds of thousands of dollars a year in rent, you're paying for people who are employees. That's going to be at least $100,000. So building a super structure—an administrative super structure—sometimes actually takes away from the resources that are available, and I'd much rather put the resources to the students so they can use them. And I think that's a part of that discussion of should we have a food pantry that really hasn't been considered, but it's very important because you want as much money as possible to go to the students that face the challenges.
Student Success Fee
What you need to know: The Student Success Fee was implemented this semester. Students paid $50 this semester and will pay $50 more every fall semester until 2017 for a total of $200 per semester in the fall 2017. The intention was to hire more professors and add new class sections with the Student Success Fee money.
DA: The hiring of 80 professors hasn't occurred yet, but I believe it's in the process.
EH: Yeah, all the positions have been approved. And so, remember, the fee is rolling out over four years. It was rolled out over four years to minimize the impact—the financial impact—on students. So we only have the resources from a quarter of the funds. We are using them to hire faculty members this year, and also 10 percent is going to student co-curricular programs. Those funds have already been allocated. I think students have a great enthusiasm about them. Academic Affairs was so excited when they saw the applications that they actually put an additional $150,000 in to support additional programs, so I think in many ways this notion is energizing action and academic approaches. We also saw, even before the Student Success Fee (and) a dollar came in in revenue, we actually saw Academic Affairs adding classes for this fall. So I think there's been really healthy discussion about this and it's really focusing us on our academic mission in a positive way.
DA: Do you know what semester the new faculty will come in that was hired with Student Success Fee money?
EH: Sure. So, they will be here in the fall. The academic hiring cycle is on a yearly cycle, where people get their degrees—usually their Ph.D.s, or their post-doc ends—in June and then they come to the university in July and August. So many of the hires have actually already been made, and it's just that people are finishing up their work at their other university, but they will be here for next year for sure.
DA: What is the biggest effect you hope the money from the Student Success Fee has on the university?
EH: So there are a couple things. The most direct is that we have more classes in areas where students have been having challenges in getting classes. That's very, very important. The second is that the co-curricular programs help engage students, help them achieve their goals, help retain students, help them graduate. And the third is that, and again, this is policies and procedures versus cultural change that we talked about before, having a cultural change where we continue to recognize the value of our academic programs and continue to support them and enhance them is very, very important not just for the university but for every students' long-term success, and so I hope this will raise awareness and continuousness of the importance of supporting our academic programs.
View the original, unedited transcription of the interview.