Spring 2015: New semester, new additions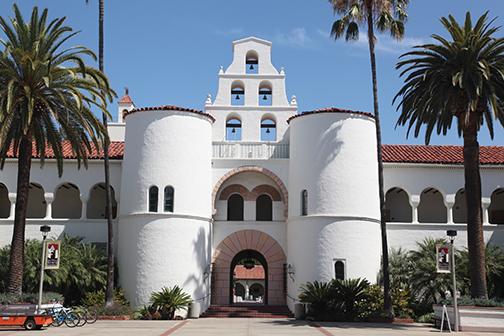 With a new semester comes several new developments. Students may have already notice a new food option on campus and may soon feel the impacts of a new mobile application. The following are some of the most recent developments initiated or in progress at San Diego State.
Aztec Terrace
The new $4 million facility includes a Starbucks, Aztec Grill and an Aztec Market, with indoor and outdoor seating available. Sandwiches, salads and other foods to order will be available from the Aztec Terrace's Aztec Market. The 4,537-square-foot building sits next to Nasatir Hall near Arts and Letters. More seating will be added in West Commons to replace Starbucks' previous location.
Campus Safety mobile app
SDSU Police Department will develop a mobile application in hopes of improving communication between the campus community and the police. The application will allow students to request escort services, access an emergency procedures "flip chart," view crime mapping, track safety shuttles through GPS, provide emergency locations and use computer desktop panic buttons. An SDSU student's parent will fund the application, which is expected to be available later in the spring semester.
Campanile Foundation Board Chair
Jack McGrory is the new chair of The Campanile Foundation, the university's fundraising establishment that recently set a new fundraising goal of $750 million through The Campaign for SDSU. McGrory, who began his new 3-year role as the board's chair on Jan. 1, is an alumnus, previous faculty member and a two-time donor of $1.2 million. He graduated with a master's degree in public administration from SDSU in 1976 and has served as a chairman and CEO of Price Legacy Corporation, chief operating officer of the San Diego Padres and city manager for San Diego. SDSU set its new fundraising goal in September after meeting its initial $500 million fundraising goal. The Campaign for SDSU funds a research endowment, scholarships, new buildings, the Honors College endowment and more.
Student union celebration
To mark the 1-year anniversary of the Conrad Prebys Aztec Student Union opening, SDSU will host a celebration that includes music and treats from 11 a.m. to 1 p.m. on Monday, Jan. 26 at the student union courtyard.
Engineering and science building
SDSU is continuing to plan the new Engineering and Interdisciplinary Sciences Building. The university will host a town hall meeting to provide an update on the facility from 2 to 4:30 p.m. on Friday, Jan. 23 in AL 201. The Campaign for SDSU will help fund the new building.
Bio-medical research chair
Conrad Prebys, whom the student union was named after because of previous donations, recently donated $2.5 million to fund the Conrad Prebys Chair in Bio-Medical Research. The new faculty position will lead researchers in the area of viromic, or genetics of viruses, and act as a teacher-scholar alongside bio-medical scholars and students. The university began a national search to fill the position immediately after the donation, according to SDSU NewsCenter.