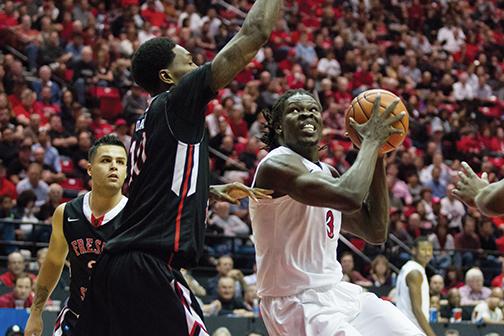 Before Tuesday night, many San Diego State basketball fans might not have had Saturday's tilt against Utah State University (12-8, 5-3 Mountain West) circled on their calendar.
That was the night the Aztecs (16-5, 6-2 MW) got their revenge against California State University, Fresno, and dominated the Bulldogs (10-11, 5-3 MW) 58-47.
But that was also the night the Aggies from Logan, Utah, thrashed the first-place University of Wyoming Cowboys (17-4, 6-2 MW) by 12 points.
Huh?
The same Utah State squad that at one point lost four games in a row, including losses to lowly University of California, Davis and University of Southern California?
The same Utah State squad that barely scraped out a one-point victory against California State University, Bakersfield — a team SDSU beat 51-27 in late November?
You bet.
USU is very similar to Dave Rice's remarkably inconsistent University of Nevada, Las Vegas (12-9, 3-5 MW) team in the fact that its roster is loaded with talented youth; three of its five top scorers, including the top two, are either freshmen or sophomores.
Young players haven't struggled through the tempest of a long and grueling NCAA season, though; they don't quite know what to expect game in and game out. The result? A March-Madness-worthy performance one night and a Division-II-level showing another night.
We just saw a March-Madness performance against Wyoming. Nine Aggies scored. They shot 48 percent and held the Cowboys to just 36 percent. They also out-rebounded, out-blocked, out-stole and out-assisted the boys from Laramie.
"I know they are good, if you beat Wyoming you have to be good," head coach Steve Fisher said after the game. "We'll be facing an excited ball club coming in here and we will be excited too."
Defensive key to the game
USU kills you with efficient ball movement. If words aren't clicking for you, consider these numbers: USU has a 1.34 assist-to-turnover ratio; SDSU has a 0.85 ratio.
Junior guards Chris Smith and Darius Perkins lead the way with 3.0 and 3.6 assists, respectively.
The Aztecs have watched tape on USU, and Fisher likely gave them a significant key to stop USU's fast-paced, pass-happy offense: utilize length to clog passing lanes. Keep the Aggies from passing efficiently and force them to play one-on-one — definitely not their strength.
There is no player shorter than 6-foot-3 in SDSU's regular rotation.
Offensive key to the game
Continue feeding redshirt-junior forward Angelo Chol when he's in. Right now Chol is splitting minutes with junior forward Skylar Spencer. Chol is much more efficient on offense than Spencer and gives SDSU its best opportunity to play inside-out basketball, which Aztec players and coaches constantly say is their bread and butter.
Chol scored 10 of the Aztecs' 26 second-half points against the Bulldogs; he also made half of the team's second-half field goals. With Chol playing that significant a role on offense, it's no surprise three Aztecs scored double-digits and SDSU won with ease.
The former University of Arizona Wildcat will have his hands full against USU's big-man tandem: 6-foot-8 sophomore forward Jalen Moore and 6-8 redshirt-freshman forward David Collette. These two combine for about three blocks per game.
Student tickets for this game are sold out, but fans can watch the game at 5 p.m. on CBS Sports Network or tune in to The Mighty 1090 AM.