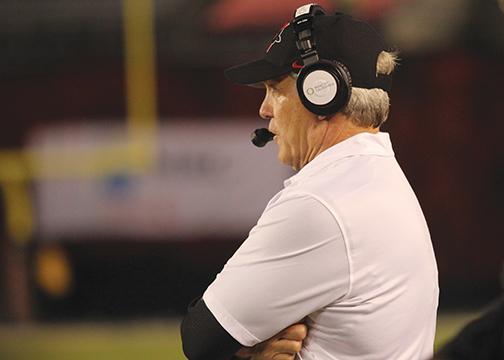 Just prior to San Diego State's football team playing the United States Naval Academy in the Poinsettia Bowl, Athletic Director Jim Sterk launched the aptly named "Rise to 25" campaign. The cleverly named campaign was meant to embody its namesake and assist both the basketball and football programs in not only cracking the top 25 rankings, but also maintain the ranking year after year.
This plan is set to transform SDSU into a perennial powerhouse. Surely one ingredient must be present to make the proposed David-to-Goliath rise possible. How is an athletic program with little relevant history going to secure consistent top 25 rankings?
The plan's lifeblood? Money.
To date, the football program has received roughly $10 million in donations to launch itself from the relative obscurity of 10 years ago to national prominence. This money is earmarked to improve facilities, add staff, enhance game day experiences and upgrade Qualcomm Stadium.
Sure, the money, staff, facilities and game-day experiences all help, but a single $10 million donation is not going to bring recruits, generate excitement, focus national attention on SDSU or earn the respect that is now needed for major bowl game berths or future seeds in the College Football Playoff.
Instead of pretending fundraising is going to put SDSU on the map, reach for actual substantive change and switch conferences.
Enter the Big 12 Conference.
The Big 12 is a Power Five conference that many believe was snubbed in this year's four-team College Football Playoff. The most likely cause of not getting one of its two teams — both of which had higher rankings than eventual National Champion Ohio State University — into the playoff was the lack of a conference championship.
The Big 12, which only has 10 of the 12 members required by the NCAA to host a conference championship football game, has petitioned the NCAA to allow it to host a championship game with its current membership. Should that petition be denied, it's an absolute possibility the Big 12 will look to expand its conference to 12 members.
Look no further than SDSU.
Right now, it's safe to say that no one knows what the Big 12's long-term plans are, but it would be difficult to turn down a school with a football program that has five straight bowl appearances and a men's basketball program that is consistently involved in the top 25 conversation with two Sweet 16 appearances in the past four years.
Under the current contract with the Mountain West Conference, the Aztecs are coming off of a year in which they made just more than $3.3 million. Yet during that same time period, the 10 teams in the Big 12 divided $213 million, with eight of the 10 teams receiving $23 million each.
According to Blair Kerkhoff of The Kansas City Star, Big 12 Commissioner Bob Bowlsby expects conference revenues to swell to $40 million per team. Hypothetically, if the Big 12 absorbs two more schools to make itself eligible for the College Football Playoff, that would leave an equal $33.3 million for each school in the conference.
This is how you finance a "Rise to 25" campaign.
Though securing those financial gains and achieving the "Rise to 25" goal would be quite an accomplishment, the benefits of joining the Big 12 are far greater.
A move to the Big 12 would put SDSU on the map. Aztec head coach Rocky Long could walk into homes of potential recruits across the country and be recognized by SDSU brand due to its conference affiliation.
Today, recruits recognize colleges because of a strong brand, geographical proximity or some other personal connection to the school. Recruits on the other side of country don't currently have high exposure to SDSU, especially with SDSU playing games being televised on CBS Sports Network or the Internet on ESPN3.
Economically speaking, when SDSU becomes a household name, it gets better recruits. When SDSU secures better recruits, its team wins games. And when teams win games, ticket sales will translate into money for all athletic programs.
The MW lacks that power to make SDSU a household name. Outside of certain California cities and the four-corners region of the United States, the MW lacks respect. All recognizable schools in California are in the Pac-12 Conference, a Power Five conference.
The Big 12 provides this Power Five credibility with stronger opponents and a brand that is associated with winning.
In the MW, SDSU has no prayer of participating in the College Football Playoff — ever. In the Big 12, doors will open to more lucrative bowl games and ultimately the College Football Playoff system.
In 2014, the Big 12 and the MW shared the same amount of postseason bowl game appearances at seven. And at the conclusion of the 2014 football season, the Big 12 held a three-to-one advantage in the USA TODAY Coaches Poll Top 25 rankings.
Besides the potential benefits for football, men's basketball — the marque attraction at SDSU — would more than benefit from the transition to a better league.
Since its inception in 1999, the MW has only been rated above the Big 12 in basketball RPI, a rating that calculates win percentage with strength of schedule and opponents strength of schedule, twice.
Consistently better competition produces battle-tested teams come bowl selection and tournament time. In the NCAA, a team is judged by how it does in bowl games or post-season tournaments. When iron sharpens iron, a tough season schedule will yield a tough post-season team.
Of course, it would be intellectually dishonest if the minimal drawbacks were not discussed.
A move to the Big 12 would mean two things: SDSU would no longer have a geographical rival in conference play and travel times would increase significantly.
The loss of a geographical rival is not the end of the world. We are in a day of college athletics where rivalries are second to revenue streams. It's worth mentioning that SDSU lacks a legitimate conference rivalry in California. Are fans supposed to believe that California State University, Fresno is a rival? They can keep the oil can and SDSU will take the money and branding of the Big 12.
Travel is a bit trickier. It requires students to miss more class and can lead to more fatigue as seasons wear on, but the basketball teams would only travel to these destinations once per year while football would go on an every-other-year basis.
This all looks great in theory, but SDSU and Sterk have a tall task ahead of them if they did, in fact, want join the Big 12. SDSU would likely need to secure another team to go with them to the Big 12, and the Big 12 would have to be willing to accept both teams.
However, the Big 12 had two potential College Football Playoff teams that never had the chance to play for a National Championship, and it won't soon forget the feeling of watching another team hoist a trophy that it believes belongs to its conference.
So, what do you say, Mr. Sterk? What is SDSU willing to do to reach its "Rise to 25" goals?
The Big 12 is a conference with the cash you covet and it needs SDSU.