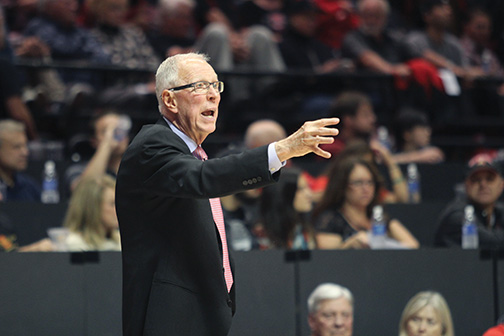 In the five games before San Diego State's Sunday afternoon tilt at Boise State University, the Aztecs averaged 67 points on 46-percent shooting. They also scored more than 60 points four times in that stretch — four times more than they had in the rest of Mountain West play.
That offensive spurt was the stuff of legend yesterday.
Instead, SDSU looked much like it did in Seattle and lost 61-46 to the hot Broncos. It shot 36 percent from the field and 11 percent from long range.
Instead, SDSU blew a chance to take sole possession of first place in the MW and remained tied with the University of Wyoming.
Instead, SDSU won't crack the AP top 25 and will drop in RPI and Ken Pomeroy rankings.
"I thought we played hard early on but we didn't play smart enough," head coach Steve Fisher said. "I thought our effort was there. We weren't very good offensively and we were not quite with it enough from the neck up to say this is what they want to do to create 3-point shot opportunities."
Boise State started the game 6-10 while SDSU began 2-12 to take a 17-4 lead before Fisher called a timeout with 11:58 to go.
The timeout didn't help much, though, as the Broncos continued their 3-point barrage to take a 30-18 lead at halftime.
"Our number one bullet point was to defend the 3, and we wanted to keep (Boise State) under five three's for the game," Fisher said. "And they had five in the first five minutes."
Senior forward J.J. O'Brien began the second half on a tear, scoring or assisting on SDSU's first 14 second-half points. His surge helped close the Aztecs' gap to just four points at 34-30 with 15 minutes to go.
But the Broncos didn't relinquish the momentum for one more moment and immediately drained two consecutive 3-pointers to spur a 15-6 scoring run that spelled the ultimate doom for Fisher's squad.
O'Brien finished with his third double-double this season, scoring 16 points to go along with 10 rebounds — five of which were offensive.
The rest of SDSU scored just 30 points on 33-percent shooting.
Bronco senior guard Derrick Marks, fresh off his conference-best third MW Player of the Week honor, scored 19 points on 5-16 shooting.
Sophomore forward James Webb III scored 17 points and grabbed seven rebounds.
With this win, Boise State inserts itself into the conversation for the NCAA Tournament even after its dismal start to conference play.
"I'm not worried about Boise State, no disrespect," Fisher said. "I'm hoping San Diego State is an NCAA team."
SDSU next hosts Wyoming this Wednesday at 8 p.m. at Viejas Arena. Student tickets are all gone but fans can watch this game on CBS Sports Network or listen on The Mighty 1090 AM.