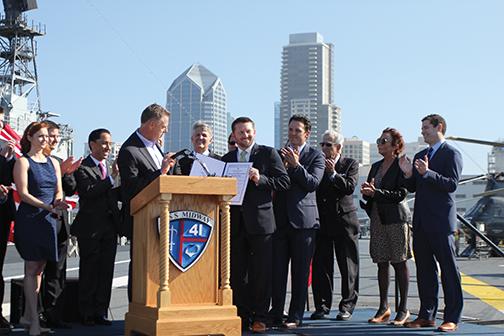 A San Diego State instructor visited the USS Midway earlier this week to be welcomed as the co-director of a national security project recently launched in San Diego.
Early Monday morning Shawn VanDiver, who instructs on international security and trade through the homeland security graduate program at SDSU, gathered with San Diego Rep. Scott Peters and other local elected officials to launch the San Diego chapter of the Truman National Security Project and welcome new members to the Truman Project's Board of Advisors.
The 12-year Navy veteran joined the Truman Project a year ago and really enjoyed the community, which inspired him to start a chapter in San Diego.
"I went back to D.C. and saw how amazing this community was and I felt for the first time in my life like I was home," Van Diver said. "I loved it so much, I had to establish a chapter here in San Diego and it seems to be really well received, and we've brought some amazing people on to the board and into the chapter."
San Diego is the Truman Project's 16th chapter with 15 inaugural members and is led by VanDiver and co-director Kristen Kavanaugh, who are both veterans.
"We have a group of dynamic professionals who all have passion areas," VanDiver said. "It's our job to help make sure that the members of TruSD are armed with the tools and relationships to accomplish whatever policy, political and operational goals they have."
The organization's mission is to unite next-generation veteran, political, and policy leaders to develop and advance strong, smart and principled solutions to the global challenges Americans face. Through the new chapter, local San Diego veterans will work together with policymakers to better national security and influence national debate on a variety of topics.
"The foreign policy establishment in Washington, D.C. needs insight from San Diego's best and brightest, and decision-makers in San Diego need locally-tailored foreign policy and national security expertise," Executive Director of the Truman Project Michael Breen said. "The members of Truman Project's San Diego chapter will be that central resource."
Supporters of the chapter's launch included Councilmember Todd Gloria and Councilmember David Alvarez as well as former California Assemblyman and veteran, Nathan Fletcher, who was one of three San Diegans appointed to the Truman Project's Board of Advisors.
VanDiver is currently working to develop courses in critical infrastructure protection, corporate enterprise risk and security management with regard to international security and trade.
He says his involvement with the Truman Project means bringing a wide range of knowledge back to SDSU and into the classroom for his students.
"I'll be able to bring back perspectives from leaders that are working on issues all over the world — Asia, Africa, Department of Homeland Security, Department of Defense, the White House," VanDiver said. "I'll be able to bring guest speakers and their perspectives back to San Diego State."
Looking into the future, VanDiver sees the San Diego chapter focusing on issues such as cybersecurity, border and immigration issues, clean technology, and military defense affairs in the region, and he hopes to broaden discussion at all levels of government, as well as non-profit and private industry.