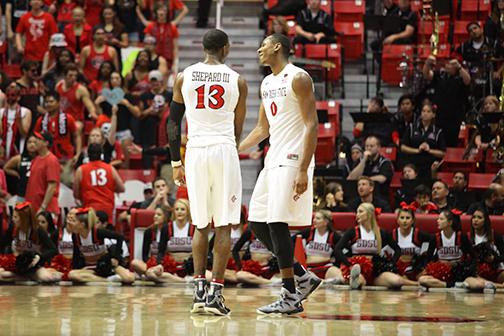 The San Diego State Aztecs (21-6, 11-3 Mountain West) will face off against the San Jose State Spartans (2-23, 0-13 MW) on Saturday night in San Jose. After a medley of player suspensions and injuries, the San Jose State roster has been slimmed down to just eight healthy bodies.
Jimmy Durkin of the San Jose Mercury News reported back on January 12 that junior guard Jordan Baker and junior forward Frank Rogers were dismissed from the team by head coach Dave Wojcik, and that sophomore forward Matt Pollard left the team.
Baker and Roger's dismissal stemmed from their previous indefinite suspension in December for violation of team rules. In addition to Baker and Rogers, Pollard, sophomore guard Rashad Muhammad and senior forward Jaleel Williams were suspended in the same incident. Baker and Rogers, the second- and third-leading scorers for SJSU, both missed the Spartans' season opener due to suspension resulting from a separate incident.
With injuries keeping sophomore guard Jalen James, freshman center Leon Bahner, and senior guard Devonte Wilson out for the remainder of the season, sophomore wide receiver Tyler Winston and redshirt-freshman Andrew Vollert of the Spartan football team made brief cameos on the hardwood. Winston logged time in one game and Vollert checked in as well.
Muhammad and Williams served short three-game suspensions and have since returned to form SJSU's leading scoring duo. Muhammad, the younger brother of current Minnesota Timberwolves shooting guard Shabazz Muhammad, is averaging a team-high 14.2 points per game in 37.2 minutes through 13 conference games. He's also led his team in scoring in 13 of the 21 games he's played in this year.
Williams is averaging 11.3 points and 5.3 rebounds per game through conference. Among the Spartans healthy eight-man roster, three men are freshmen and three are sophomores.
San Jose State suffered its 23rd loss of the season on Wednesday, falling to Utah State University 76-54. SJSU has yet to beat a Division I opponent this season.
SDSU is coming off of an impressive 63-46 win against the University of New Mexico in its first visit to WisePies Arena this season. The Aztecs crept their way back into the USA Today Coaches Poll on Monday at No. 25 and could have a decent shot at getting back into the Associated Press Top 25 if they win their final four games. Winning out would also mean that SDSU would secure its second consecutive regular-season MW title.
Senior guard Aqeel Quinn led the Aztecs on Tuesday night with 20 points, but it was freshman forward Malik Pope who stole the show once again. Pope's 16 points off of the bench was the second-best total of his 22-game collegiate career.
Pope threw down a lob pass from junior forward Winston Shepard late in the second half that made its way to No. 5 on Sportscenter's top plays of the night.
If making the trip up to the south Bay Area isn't possible, the David and Goliath matchup can be seen on ESPN3 and heard on The Mighty 1090 AM. Tipoff is at 7 p.m. from The Event Center in San Jose.