SDSU drops first-half lead, loses to Lobos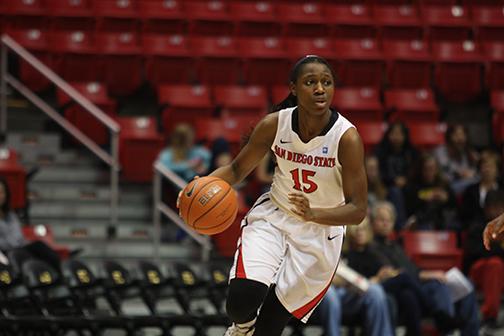 The San Diego State women's basketball team has struggled all season long. Those struggles continued in a 63-47 loss to the University of New Mexico (15-10, 11-3 Mountain West) Wednesday night in Viejas Arena.
The Aztecs (9-16, 6-8 MW) are currently facing an identity crisis over this three-game losing streak. In all three losses they have been within striking distance or in the lead at the half, but seem to come out a shell of the team that was playing in the opening 20 minutes.
"I thought we played a very good first half defensively," SDSU head coach Stacie Terry said. "Offensively I thought we looked sharp. We took them out of what they wanted to do. Going into the second half we came out flat and didn't defend like this Aztec team needs to win."
The only Aztec that has been able to ride this roller coaster unscathed is freshman standout McKynzie Fort, who led the team in scoring the last two games. She once again had a team-high 12 points against UNM.
Fort began the night draining a mid-range jumper to open the scoring for both teams before sprinkling in six more points throughout the half, including the final shot for either team in the waning seconds.
SDSU had the Lobos offense stuck between a rock and a hard place in the first half, limiting them to 33.3 percent shooting and committing nine turnovers. The team prevented all but one Lobo to score more than one field goal and kept redshirt-senior guard Antiesha Brown — who averaged 14 points heading into the match — to only two points through 20 minutes of action.
However, just as you cannot stop singing a song that you hate (cue Bruno Mars' "Uptown Funk"), the Aztecs were unable to play to a different beat in the second half — just as they have all season long.
After trading layups in the early minutes of the half, the Lobos smelled blood in the air and pounced on the unsuspecting Aztecs.
UNM went on a 19-4 run that lasted six minutes and was compiled of a streak of nine- and six-point runs to go up 44-33. The Lobos never looked back.
Redshirt-junior Erimma Amarikwa brought the game within seven after she made a layup and made the ensuing free throw. The hope for a comeback was then quickly dashed by the Lobos as they rattled off the next seven points to take the commanding 14-point lead with 7:29 left to play.
After the game Fort couldn't hide the frustration of the second half and letting this game slip through her team's grasp.
"We came out flat (in the second half)," said Fort. "We did not execute defensively as we needed to like we did the first half and we did not attack offensively as well. We should have been more aggressive and focused."