Secret Cookie Service stops selling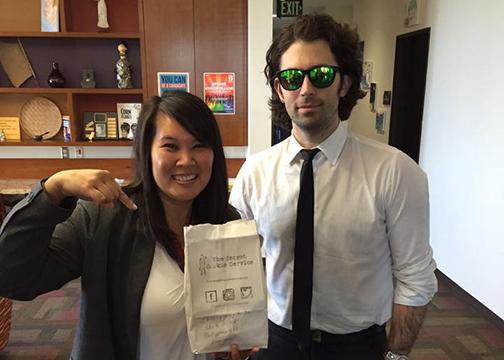 Secret Cookie Service, a cherished local business that delivered cookies all around San Diego, has recently shut its doors (for now).
The business, which was started by a University of California, San Diego alumnus, featured "cookie agents" who delivered warm, gooey cookies while wearing suave agent-like shades and suits. Some of their best sellers were chocolate chip, brownie stuffed chocolate chip, nutella stuffed chocolate chip and cookies 'n cream. The business sometimes offered flavors such as mint chocolate chip or red velvet and white chocolate chip. They delivered primarily to San Diego State, UCSD, and the University of San Diego. Students could order through text or phone call, and most used the business's Facebook page to learn what was on the menu for the night. The Facebook page was also where the business announced that it would be closing, much to the despair of hundreds of people who used the service.
"Agent Snickerdoodle," the founder of the business, clarified that Secret Cookie Service isn't necessarily permanently closed, but rather put on hold indefinitely.
"We weren't having problems with customers, I think you can see that pretty clearly," Agent Snickerdoodle said. "But what we really need is someone to refresh the operation and make it more efficient."
Though he is moving on to a new mission in San Francisco, he hopes that someone else can take over the keys to the cookie kingdom and revamp the business. One of the potential changes he hopes to see is the continued development of a cookie-ordering mobile application.
Agent Snickerdoodle began the business several years ago, after realizing that he wasn't the only one who loved his mother's chocolate chip cookies. He decided to sell them by delivery, but knew he needed a brand of some sort. So he put on some shades and a suit to deliver cookies, and found that customers were responding exceedingly well. For some customers, part of the appeal of ordering from Secret Cookie Service was the idea that a well-dressed man with a briefcase and sunglasses, would show up on your doorstep with cookies and milk, take a photo with you, and disappear into the night.
An SDSU marketing junior Shaylenne Martin said she ordered from Secret Cookie Service in the past with her roommates.
"I had a macadamia and white chocolate, which was delicious and then they gave us free chocolate chip cookies," Martin said. "It was so nice, we ordered quite a bit because we were super hungry and we were just nice to the secret agents who showed up and they're like, 'Here, let us give you our card' and handed us two cookies."
Athletic training junior Katie Harris also ordered from Secret Cookie Service last year. She said the best part was the delivery.
"I mean, you order a pizza, and like the best part is that they deliver it to you — you don't have to do anything," Harris said. "This is like that but they're cookies and they're good. And I like that you could get milk delivered."
Though Agent Snickerdoodle is sad to be leaving, he's excited for the top-secret mission he's headed for with Mrs. Snickerdoodle in San Francisco. He put many hours of his time into growing the business, and would love to still be a consultant if the business gets picked up by a new agent.