Reading event promotes literacy at SDSU Children's Center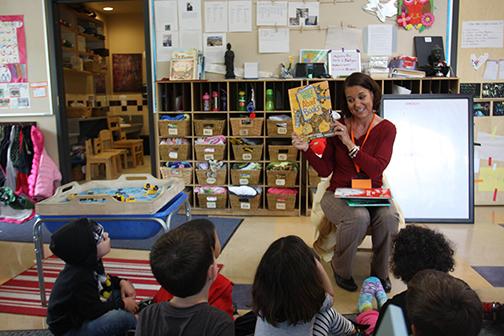 As Sara Garrity, a child and family development assistant professor, read to a group of around 20 children at San Diego State's Children's Center, a toddler impulsively interrupted her.
"Hyenas shared jokes with the red-bellied snakes, and they howled and they hissed till their funny bones ached," Garrity read from "Wild About Books."
The sentence prompted a question from the boy: "What does 'ached' mean?"
Garrity asked the children if their stomachs had ever hurt, and the toddler immediately understood.
"Well sometimes my head gets an ache," he said.
Garrity and about 15 students from her Language and Literacy for a Diverse Society course read to several classes at the Children's Center on Monday, March 2 to celebrate Read Across America Day and promote literacy.
Children were read to in small groups in some classrooms, while others were read to in a larger group.
Diana Palos, a child and family development senior and assistant teacher at the Children's Center, said reading to children is important because it helps to expand their knowledge and with brain development.
She has an 18-month-old daughter and a 3-year-old son who attend the SDSU Children's Center.
"Learning, in general, is really important, and reading helps in so many domains — social and emotional," Palos said.
Jane-Ann Carroll, SDSU Children's Center assistant director, said the Center's families reflect the diversity at SDSU and speak more than 20 non-English languages combined. The Center provides care for nearly 200 children.
She said the staff encourages parents to read and speak to their children in their native language.
"They're going to learn English while they're here with us, but we want them to continue their home language, because anyone that is bilingual knows what an asset that is," she said. "I say for selfish reasons I want the children to be able to talk to their grandparents."
Carroll said the Center hires bilingual staff and works to offer literacy programs in the children's native languages.
The course Garrity teaches focuses on language and literacy development in children, including dual-language learners.
She said the SDSU Children's Center is a training ground for her students, and the reading event on Monday was an opportunity for them to practice techniques they learn in class.
"It really helps them identify high-quality literature, and it really reinforces the idea that parents need to read to their children and that it really helps to contribute to their later school success," Garrity said.
Parents were invited to the reading event, and several attended.
Palos said she has helped improve the Children Center's library and inform parents about it.
"More than anything I want to teach my students that reading is fun, and that if you give children a love for books then they really are going to successful in their later school and life," Garrity said.
She said about 200 SDSU students per semester do their internships at the Children's Center.