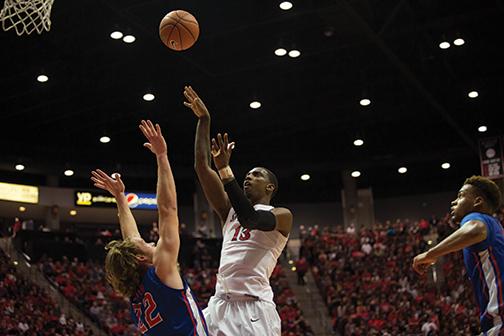 The San Diego State Aztecs (23-7, 13-4 Mountain West) close their regular season campaign at Viejas Arena this Saturday night against the University of Nevada, Reno Wolf Pack (9-20, 5-12 MW).
Nevada gave SDSU a little more trouble than it probably should have in their first meeting in Reno. The Aztecs pulled out a 65-63 win only after junior center A.J. West missed the potential game-tying tip-in at the buzzer.
Since then the Wolf Pack has gone 3-5 with two wins against San Jose State University and an overtime win at home against a University of New Mexico team stuck in an eight-game losing streak.
The Aztecs are fresh off a 60-58 road win against the University of Nevada, Las Vegas (16-14, 7-10 MW). SDSU trailed 31-28 at halftime, but Steve Fisher's squad drained five of six 3-pointers in the second half and pulled out a thrilling victory on UNLV's senior night.
Senior forward J.J. O'Brien scored a career-high 22 points and junior forward Winston Shepard made two clutch free throws in the waning seconds to seal the win.
The player to watch this Saturday for Nevada is West, who's one of two MW players averaging a double-double in conference play (13.5 points, 12.2 rebounds). He does most of his damage on the offensive glass, where he grabs nearly seven boards a game and usually converts them to second-chance points.
West dominated the interior when SDSU traveled to Reno, scoring 14 points to go along with 13 rebounds — seven of which were offensive. He was a huge reason why Nevada scored 17 second-chance points and was so close to pulling off the upset.
Stopping West will take a team effort from SDSU's big bodies: O'Brien and  junior forwards Skylar Spencer, Angelo Chol and Winston Shepard.
But something much more important than a game is happening Saturday night.
This is SDSU's senior night, where fans, coaches, teammates and families alike will honor the seniors that have given so much to this program.
Montezuma Mesa will say its final goodbyes to three fifth-year seniors: O'Brien, senior guard Aqeel Quinn and senior forward Dwayne Polee II.
"We've had great success as a program at winning and winning the right way with the kinds of players that these three are," head coach Steve Fisher said on Monday. "Senior day is emotional and sad, but exciting. It will be, with pride, that the three of them will finish their career. Right now, all three of them are like I am. There's a whole lot left to their career before they tie it up in a bow and give their senior speech at the banquet."
If the Aztecs win on senior night and Boise State University loses to California State University, Fresno, SDSU will take the regular season MW crown and the No. 1 seed in the MW Tournament.
If both teams win, they'll split the regular season title and Boise State, which swept the season series against SDSU, will get the No. 1 seed in the MW Tournament.
Tipoff against Nevada is this Saturday at 7 p.m. If fans can't come to the game, they can watch it on CBS Sports Network or tune into The Mighty 1090 AM.