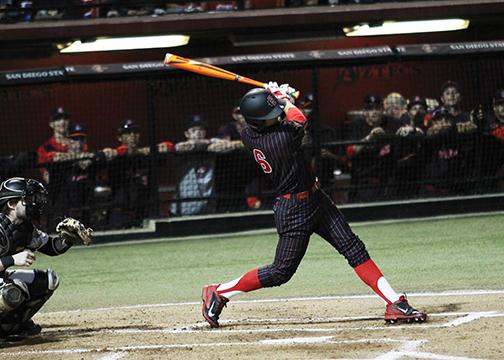 San Diego State's baseball team is off to an unprecedented start to its season (14-3, 4-2) and it will put that hot start to the test this weekend as it welcomes Texas Tech University to Tony Gwyn Stadium.
Texas Tech (11-4, 0-0 Big 12) is currently ranked No. 13 in the National Collegiate Baseball Writers top 30 poll and made it to the NCAA College World Series last season. The Aztecs are ranked 28th in the same poll.
"It's going to be a great test for our program," head coach Mark Martinez said. "It will be a good opportunity to see where we are at."
The team lost its first series of the season when it dropped two out of three to the University of New Mexico last weekend.
However, the Aztecs bounced back strongly to defeat California State University, Long Beach 16-1 on Tuesday.
"We swung the bats pretty well last Sunday and that kind of carried over to Tuesday," Martinez said. "Hopefully we can continue to string together quality at bats. We just have to go out there and execute."
Putting together quality at-bats will be important because the Red Raiders possess two front-line pitchers — sophomore left-handers Dylan Dusek and Ty Damron — who both were around for the team's run to the College World Series last year.
Both pitchers have ERAs below 2.70 and own a combined 4-1 record on the season.
"(Texas Tech is) a complete package team," Martinez said. "On the mound they have some veteran guys with experience pitching in big-time games."
One could call the SDSU offense a "complete package," as well.
All eight SDSU hitters that have started 10 or more games are currently batting over .300.
The leader of the group is senior outfielder Steven Pallares, who boasts a monstrous .438 average with two home runs and 21 RBIs out of the leadoff spot.
As for the SDSU rotation, the team will stick with sophomore right-hander Cody Thompson as the Saturday starter for the series.
Thompson pitched six innings in the team's loss last Saturday and allowed four runs while striking out six.
Someone who has been providing a huge boost to the pitching staff is sophomore right-hander C.J. Saylor.
Saylor's seven saves were tied for first in NCAA Division I as of March 11.
"Anytime you can shorten a game to eight innings it makes a huge difference," Martinez said.
Saylor played catcher last season, but Martinez credits his "power arm," which helps him run his fastball up to 93 or 94 miles per hour, and his split-finger for such success in his first time pitching in college.
A huge factor working in the Aztecs' favor this weekend is that they will be playing at home where they hold a 9-1 record.
Martinez hopes that this series with the Red Raiders will begin a long string of home-and home series with big-time programs.
"We wanted to have a marquee matchup at home and hopefully it will spring more and more home-and-home series with these types of programs," Martinez said. "It all starts with Texas Tech this weekend."
He noted that the program is in the works on beginning a series with the University of Oregon.
Like Martinez said, though, it all starts with the Red Raiders this weekend.
"They're an elite program and hopefully we can match up with them," Martinez said. "We're excited."