No. 65 SDSU women's tennis falls to No. 9 Cal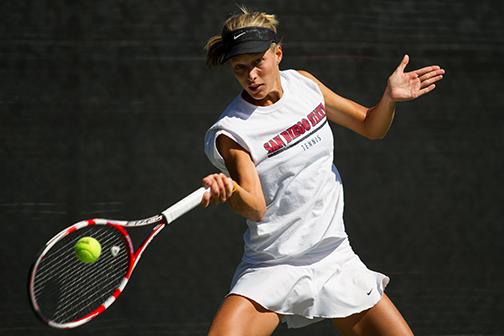 The No. 65 San Diego State women's tennis team Aztecs dropped its second consecutive match to a top-10 opponent Friday.
While the 110-plus degree temperatures favored the Aztecs, SDSU simply could not handle the No.-9-ranked University of California, Berkeley Bears.
Cal's No.-5-ranked doubles team in the country led the way to the first point of the match as sophomores Maegen Manasee and Denise Starr took their doubles set 6-1. This was followed by the No.-11-ranked doubles team, junior Klara Fabikova and senior Zsofi Susanyi, also winning their set 6-1.
Unfortunately for the Aztecs, the singles matches followed suit.
Cal has five of their six women in singles ranked in the top 100 and that alone was too hard to overcome.
The No.-4-ranked singles player, Manasee, defeated senior Kristin Buth 6-2, 6-1 to start the singles matches. But after two more straight set victories, the Aztecs began to fight back.
Junior Tami Nguyen won her first set against Fabikova 6-3, but Fabikova would come back. Nguyen played a hard-fought second set only to lose in a tiebreaker 7-6. This led to a 10-point tiebreaker to decide the match where Nguyen would be outlasted as Fabikova won 10-5.
The best match of the day, though, had to go to freshman Paola Diaz de Regules. After losing the first set 6-4, Diaz de Regules played an outstanding second set and won 6-3, but she then dropped the third-set tiebreaker 10-8.
Last but not least, senior Hailey Johnson played a very close match with freshman Karla Popovic, but ended up falling in straight sets 6-3, 7-5.
The Aztecs' next match is against the Princeton University Tigers Friday at 2 p.m. at the Aztec Tennis Center.