A.S. lobbies for CSU funding in Sacramento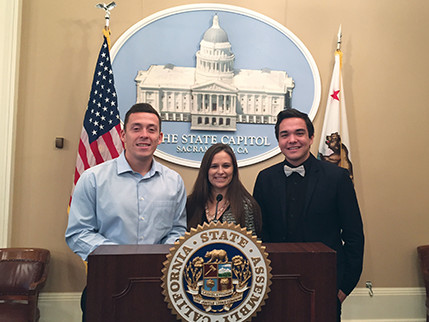 Associated Students representatives recently attended a summit to lobby for an additional $97 million for the California State University budget.
The CSU system has a $137 million budget for its 23 campuses, and when equally distributed, each CSU school receives a $5.9 million budget from the state, Associated Student Vice President of External Relations Jacqueline Karczewski said.
Karczewski, Vice Chair of External Relations Tyler Aguilar, and Outreach Director of the External Relations Chair Cameron Lyons attended the California State Student Associations 20th California Higher Education Student Summit earlier this month to ask for the addition to the CSU budget.
Every month the California Student Association meets with the 23 CSU campuses to discuss issues at each university, and to teach students how to lobby at the California State Capitol.
Then, once a year the trained students go to Sacramento to lobby state officials about a particular topic. For the past years they students have advocated for a higher CSU budget.
According to the student association, the governor has proposed to fund 51 percent of CSU costs, but the CSU lacks $38 million needed to help close the achievement gap and improve the time it takes to attain a degree, and is $25 million short to fix unsafe classrooms throughout all campuses.
"There are tiles falling off the ceiling at some (CSU) schools because there is not enough funding to cover education and maintenance costs," Karczewski said.
According to the California State Student Association, 6,900 eligible students are not being admitted into the CSU system because of insufficient funds.
In 2010 Sen. Marty Block, who represents San Diego's District 39, spoke out when SDSU rejected 1,740 students who met the CSU requirements.
"It is imperative that we look at ways to open doors to colleges and universities, instead of closing the doors of opportunities to the next generation of Californians," he said.
The projected acceptance rate for SDSU for the 2015-16 academic year is 33.2 percent.
During their time in Sacramento all three SDSU A.S. members met with six legislators from the San Diego area. In addition to talking about funds, the students also spoke to the legislators about sexual assault prevention and entrepreneurship programs at SDSU.
Aguilar believes that overall the trip was overall successful.
"Legislators really care about what students have to say, and that's why it's so important to make these lobby visits consistently," Aguilar said. "We need to keep pushing for more funding, so our students can graduate on time and get the classes they need."