Sin City ideal for MW Tournament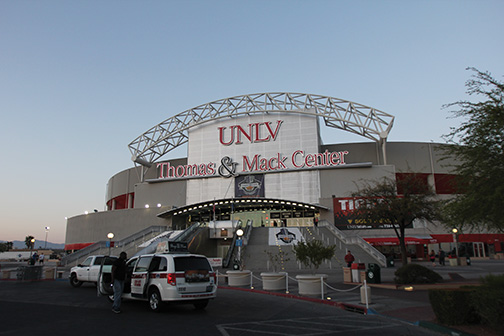 by Mike Heral , Senior Staff Columnist
March 23, 2015
Some say it's time to move the Mountain West men's basketball championship out of Las Vegas.
Here are their arguments: The Thomas & Mack Center gives the University of Nevada, Las Vegas an unfair home advantage; it doesn't spread the wealth; the conference can't grow until it's played in Los Angeles; and, last, declining attendance shows that the MW suffers from having too many other conference championships played simultaneously. All of these seem valid on first glance. But looks are deceiving. The tournament belongs in Vegas.
UNLV has hosted the tournament for 13 of the last 16 seasons. It's advanced to the championship game seven times. Its tournament record is tops in the conference. Those facts lend credence to the belief there's something weird going on at the Thomas & Mack. There isn't. The Runnin' Rebels made those runs because they've been consistently good. The team averaged almost 25 wins during those seasons. End of argument.
Three other conferences play in Las Vegas during the MW tourney: the PAC-12, WAC and the West Coast. That's an awful lot of basketball in a short amount of time. There's too little wiggle room in scheduling, so tourneys always run into each other. The only alternative is to shorten the season, but that puts teams at risk for qualifying for the NCAA Tournament. Divorcing the tournament from Las Vegas seems to make sense. Yet, attendance hasn't suffered from the extra competition. Last year's attendance figures supplied by the NCAA reveal the MW finished behind only the PAC-12, with an average attendance of 11,051 fans. The PAC-12 averaged a little more than 500 fans more, despite playing in an arena that can seat almost 17,000. This shows the MW holds up well against its big brother, partly because the MW is a known commodity to residents.
That's important. Only so many fans will travel, especially since the typical college student struggles for money. Vegas works well for the MW because it's as close to being geographically centered as one can get in this far-flung conference. Sin City isn't too far from teams playing in Colorado, Utah, California and Nevada. More importantly, Las Vegas boasts warmth and swimming pools, irresistible items for folk suffering through winters in Idaho and Wyoming.
San Diego is the only other city with a better climate. Plus, Viejas can handle the average crowd that has been coming to the tourney. However, San Diego doesn't need the basketball championship — well, for that matter, neither does Las Vegas — it needs the football championship. Not wanting to stray too far, but the Steve Fisher squad already owns this city. SDSU's football team, however, might be less popular than high school teams. If SDSU wants to make a play for the MW, it needs to bring the football championship here so that it might start attracting fans to regular season games.
As for moving the basketball tournament to Los Angeles, one needs to know why the PAC-12 plays its championship in a city without conference representation. It fled to Sin City in 2013 because few fans showed up at Staples Center. If Southland won't turn out for either of its two PAC-12 teams, it isn't going to come out for a product considered to be lesser in stature. For all of its size, Los Angeles isn't a good sports town.
Last, Vegas has what no other city can give it: premium entertainment within walking distance. Las Vegas is perfect no matter what the team does during the tourney. Wins can be celebrated in style, and losses can be forgotten after an evening — or two — of quality diversions. No matter the logic behind the previous arguments, that is the best selling point. People are always going to go to Vegas. But who wants to be in Cheyenne, Wyoming?