Malik Pope will return to SDSU for his sophomore year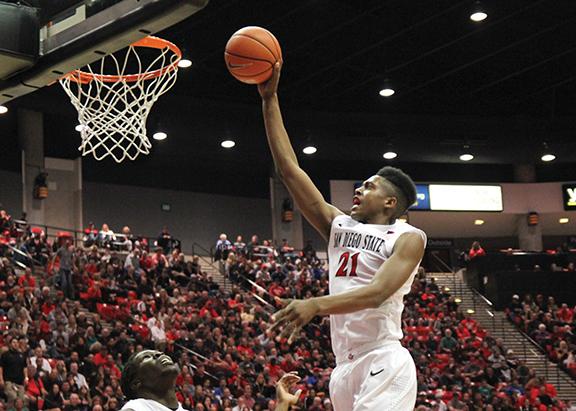 San Diego State men's basketball head coach Steve Fisher announced yesterday that freshman forward Malik Pope has decided to remain atop the Mesa for his sophomore season in 2015-16.
After submitting Pope's name into NBA draft evaluations and receiving feedback from multiple general managers from the NBA, Fisher said he told his versatile athletic forward to remain at SDSU for another season, and Pope listened.
This decision came on the same day that a well-connected ESPN draft analyst listed Pope as the No. 15 prospect in the nation for this year's upcoming draft, after a freshman campaign where Pope played in 31 games and averaged only 5.1 points and 2.7 points per game.
However, numbers can be misleading, especially with Fisher's slow-tempo approach on the offensive end that can negatively impact his players' offensive statistics. But if you watched Pope play at all this season you know the buzz surrounding the Sacramento product is warranted.
Pope, who stands 6-foot-10, 205 pounds, is a freakish athlete and proved that he is a threat to score from anywhere on the floor. Tack on that he is a solid rebounder, can run the floor like a guard and has decent ball handling ability, and it's a no-brainer why the NBA was an option for Pope after just one year at college.
Even though he was unable to participate in full practice sessions with SDSU until December, Pope demonstrated his raw ability and limitless potential this season.
In his coming-out party against Colorado State University, the freshman forward showcased his vast skill-set and proved why so many consider him a special talent. Pope recorded 22 points, seven rebounds, two assists and one steal on 9-11 shooting – 4-4 from beyond the 3-point line.
With his return for his sophomore campaign, SDSU's highly touted recruiting class from last season will remain intact. Add in the experience for Pope, the backcourt duo of Trey Kell and Kevin Zabo, and the recovery of Zylan Cheatham, who redshirted this season due to a foot injury, and the 2014 recruiting class has the possibility to solidify the hype surrounding them when they first stepped onto campus.