Rally at SDSU calls for $15 minimum wage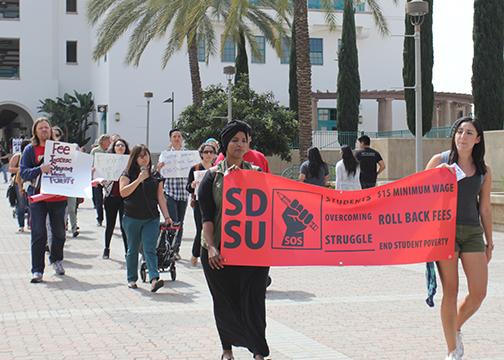 Nearly 1,000 people, many of them fast-food workers, marched on and near San Diego State on Wednesday to demand a $15 minimum wage and union rights. In what organizers are calling the largest protest by low-wage workers in U.S. history, workers across the county rallied to raise the minimum wage on April 15, a few weeks after McDonalds announced April 1 it would only increase employees' wages by a dollar.
Workers in San Diego participated in several rallies across the city. Protesters marched with the hope that their movement would increase the minimum wage in California from $9 an hour to $15 an hour. Protesters gathered at SDSU after fast-food workers participated in a walk-out and shut down the McDonalds on Montezuma Road earlier that day.
Cymone Fillmore, a Burger King employee, believes the movement is empowering for someone like herself, who is trying to raise a family on a minimum wage. Participating in San Diego's Fight for $15 has encouraged her to keep fighting to support her family.
"It makes me feel proud to be a part of this movement and it gives me more courage to see that I am not the only one struggling and that there are a lot of people just like me," Fillmore said.
For Kristen Aguirre, a mother of four, raising the wage would mean being able to afford rent in a low-income apartment, which she can't afford at the moment.
"If minimum wage is increased I'll actually be able to afford to move out from my mother's, provide what I need for my children and put them through school," Aguirre said.
Adjunct professors, home care workers, child care workers, janitorial service workers, security officers and students all came together and shared their stories before marching down Montezuma Road.
One of the speakers, SDSU Chicana and Chicano studies senior Jesus Carbajal, talked about the difficulties that come with being an undocumented student at SDSU. Coming from a working-class family, raising the minimum wage would not only help him pay for his own schooling, but he believes it would help his high school sister pay for college in the future.
"My sister right now is a sophomore in high school, and I want her to be able to have these experiences in college without having to worry everyday about how she is going to pay for it," Carbajal said.
Raising the minimum wage would have the biggest impact on the community though, he said. He believes it will give community members a chance to work toward a better future.
"Together we will be able to do more as a community," Carbajal said. "We will have more time to talk about the issues we face and how, as a community, we can overcome those struggles."
SDSU sociology senior Sonia Rodriguez believes that raising the minimum wage would have a major impact on SDSU's students.
The average yearly tuition costs at colleges part of the University of California and California State University systems rose from $4,000 to $9,000 between 2004 and 2013, according to The Public Policy Institute of California.
SDSU's Guardian Scholars Program aims to assist homeless students, primarily through scholarships that compliments financial aid.
"Education should lead to liberation, and not debt," Rodriguez said.
Rodriguez said she sometimes has a hard time finding enough to eat and paying tuition costs at SDSU.
"With the food here, I can't always eat, or I will buy chips for a meal because right now on campus, one meal is more than minimum wage," Rodriguez said. "To eat three times a day is impossible."