Women's tennis looking to win, weather or not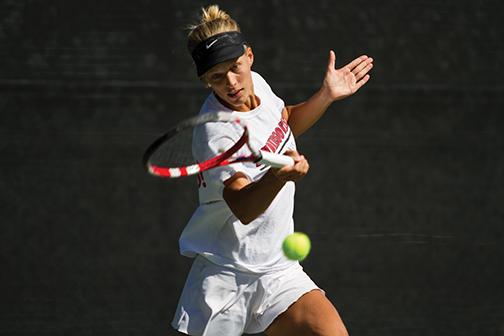 It's Mountain West tournament time, yet again, for the San Diego State women's tennis team.
After overcoming a rocky start,  the Aztecs have come into their own this season and finished up winning seven of their last nine matches.
"I feel like we're probably hitting our stride at just the right time," head coach Peter Mattera said. "We're probably playing the best that we've played all year and also, certainly, playing with a lot of confidence."
Senior Hailey Johnson echoed Mattera's sentiments about the tournament.
"The conference is looking pretty good (and) they're competitive, but after the matches when we played them we know what we need to better, and I feel like everyone is on board."
With the team's streak, SDSU earned the fourth seed in the tournament and will play University of Wyoming in the first round. 
Unlike most of the MW teams, the Aztecs played just four matches against conference opponents while all others played at least five.
One of those opponents SDSU didn't play: Wyoming.
"I know they're a very solid team and four versus five you would expect that's going to be a pretty competitive match," Mattera said.
Senior Kristin Buth seems unfazed by the unfamiliarity with the Cowgirls.
"I think it's actually good (having not played them)," Buth said. "If you've beaten them you know 'Oh, yeah okay we've beaten them' so, I think it is good we haven't played them."
It appears as though the Aztecs are at a perfect balance of confidence heading into the biggest tournament of the year. However, there are many obstacles left before they can claim the crown.
One of those many obstacles: wind.
This year, the MW tournament is being held at the University of New Mexico and the weather could cause major problems for all the tennis players.
When SDSU plays Wyoming on Friday, the winds could reach 20 to 30 mph.
The key is the wind has to be sustained at over 20 mph, according to the Intercollegiate Tennis Association rules. So, if there are random gusts at over 20 mph that's fine. However, if the sustained wind exceeds 20 mph, then the team will move inside.
"It's probably not a benefit for either team," Mattera said.
While Mattera voiced some concern on the issue, his players feel ready.
"It has been windy our last few matches here," Johnson said. "So we've had kind of a preparation for it, which was kind of a blessing in disguise."
The largest hurdle the Aztecs have to overcome, though, is California State University, Fresno.
Should the fourth-seeded Aztecs beat Wyoming, they would have to face the No. 1 ranked, undefeated-in conference Bulldogs in the second round.
Johnson thinks Fresno State is the clear favorite.
"I think so," she said. "They did win it last year, so they have that kind of confidence boost. They already beat us once, but I think they know how close it was."
While SDSU did lose 4-1 to Fresno State earlier this season, the Aztecs were ahead in the matches left unfinished. Thus, if the Aztecs do play the Bulldogs in the second round, the doubles point will be a big momentum shift for either team.
"I think that we're in a pretty good spot," Mattera said. "I think we're feeling good about where we are right now as a team and I think we are really going to go in there and take our shot."