Survey assesses commuting experiences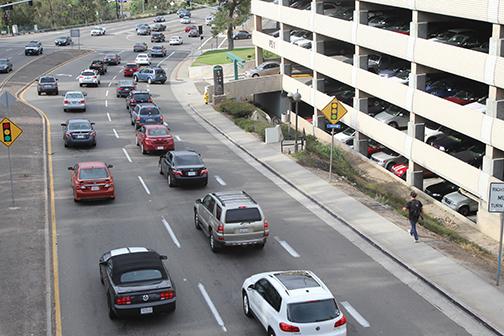 San Diego State's Parking Services is conducting an assessment on students' preferred method of transportation to get to campus.
Parking Services sent out an online survey via email on April 14 to receive student input.
"(The survey) will provide the SDSU campus community with an opportunity to share experiences, perceptions, ideas and concerns related to using their preferred method of transportation – car, bus, trolley, bicycle or as a pedestrian," Director of Parking and Auxiliary Services Debbie Richeson said.
The survey, which takes about 10 minutes to complete, is a result of the university wanting to improve its service to students and the community, Richeson said.
Criminal justice senior Julian Lopez drives about 15 minutes to campus in the mornings. Although he is close, he avoids taking busy streets to ensure he gets to class on time.
"I like to take the streets rather than the boulevard because I hardly get traffic, and going up on Montezuma in the mornings is usually busy," Lopez said. "I get there in 15 minutes max. Parking is the issue."
Richeson said the information gathered will be kept confidential.
"Feedback collected through this survey, and through a series of campus stakeholder meetings, will be used to develop recommendations that are sustainable, user-focused and that meet the parking and campus access needs of the university," Richeson said.
Criminal justice and social work junior Sinthia Garcia believes there needs to be changes in SDSU's parking services.
Garcia used to carpool to campus for 2 years, and was often late to class because of it. Now she drives to campus. She has a 30-minute commute, but adds an additional 15 minutes to find parking.
"Parking is always an issue," Garcia said. "It's always hard to find parking."
She also said parking passes are costly.
"The cost (of a parking pass) limits students financially," Garcia said. "It makes it a burden on them to have to pay an extra fee."
"This is the first step of many to work towards making positive changes to improve service to the campus and our community," Richeson said. "We are going to assess the results of the survey to see what the campus community is looking for as it relates to accessing campus."
As of last week, 248 graduate and 1,504 undergraduate students completed the survey.