Hitting helps Aztecs take road series against Fresno State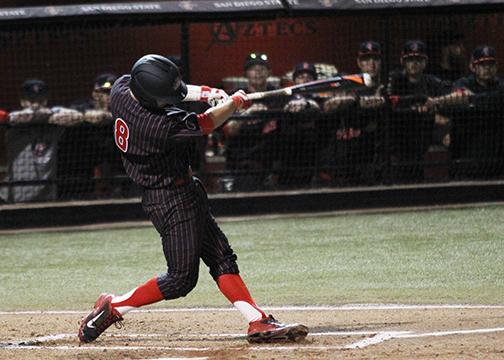 San Diego State baseball won two games over the weekend in a three-game road set against California State University, Fresno.
SDSU bounced back after being swept by University of Nevada, Reno last weekend, and then falling short against California State University, Northridge on Tuesday.
"It's huge going on the road like that and picking up a series victory," head coach Mark Martinez said. "I liked the way our guys rebounded from the losing streak. We were in position to win all three of those games."
Things looked bleak after the Bulldogs pulled off a 5-4 walk-off victory in 10 innings on Friday night.
For the second straight week, the team's ace, junior right-hander Bubba Derby, was knocked around by his opponent.
He allowed four runs in 5 1/3 innings, while giving up seven hits and four walks.
"He'll be fine, he's one of the better pitchers in our conference," Martinez said. "He just needs to work on limiting mistakes early in the game. That's not his style."
On Saturday night, the Aztecs seemed to take out all their frustration of their five-game losing streak on Fresno State, as they won 15-3.
The highlight of the game was a grand slam from freshman infielder Brody Westmoreland, who was playing designated hitter. It was his second home run of the season.
"He's a young hitter who we are going to try and get at-bats and let grow into his role," Martinez said. "He put the game out of reach for (the Bulldogs) and spring-boarded our offense for the rest of the series."
Junior third baseman Ty France also added a homer on Saturday, his third of the year.
Junior right-hander Mark Seyler picked up the win to move to 8-2, and he now leads the Mountain West in wins.
"(Seyler) is in a perfect role, he can either win us a series if we get the win on Friday, or get us back on track if we lose on Friday," Martinez said.
Like Martinez noted, Westmoreland's home run "spring-boarded" the SDSU offense, and helped them defeat the Bulldogs 9-4 on Sunday.
For the second straight game, the bats led the attack, but it was a different cast of players that got it done.
Senior outfielder Steven Pallares paced the team, going 4-5 with three RBIs.
Junior outfielder Spencer Thornton also added three RBIs, as he went 3-4 on the day.
Picking up the win on Sunday for SDSU was sophomore left-hander Marcus Reyes, who moved to 6-2.
"You know, people think that the college season is long, but really it's a lot shorter than the professionals play," Martinez said. "In a game like baseball where adjustments are crucial, it was nice to see our guys get back and swing the bats like they had all season."
The Aztecs will get a chance for vengeance this week as they once again play CSUN, this time at home.
Then they will welcome University of Nevada, Las Vegas in for a three-game set at Tony Gwynn Stadium.
"UNLV is always a special series for us, you know there will be extra intensity," Martinez said. "If we swing the bat and pitch like we did over the weekend we can win every game, and work towards getting a higher seed for the conference tournament. "