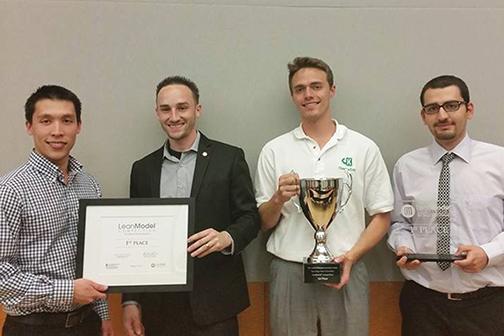 A new program that boosts interaction, social learning and student attendance in large-lecture class rooms was recently developed by San Diego State students. The Course Key software, originally created by junior Luke Sophinos, aims to make a big class feel small by increasing student interactions.
"After struggling in multiple large-lecture classes at SDSU my freshman year, I started to explore why classroom interaction was so limited in college," Sophinos said.
By looking at products currently on the market, Sophinos began searching for ways to change the classroom environment. From there, the idea continued to evolve into what the application is today.
The Course Key features a three-prong approach:
Attendance

Interaction

Social Learning
Professors can monitor participation by creating an attendance code and displaying it on a projector at any point during class. Students then scan this code on their laptop, smartphone or tablet through their Course Key account and attendance is recorded. The program uses GPS technology to ensure the student is physically in class. The feature was patented with help from the Zahn Innovation Center, which provided legal support.
Students can ask questions on their device at any time and get feedback from the professor or other students. Professors can send out quizzes or polls to ensure students are interacting.
Social learning is achieved with chatrooms in which students can exchange notes and create study groups. It even allows the student to text syllabus-related questions to the app, such as, "When is my next exam?" or, "What homework do I have due?" The app then replies with an automated response.
Course Key has been in development since August 2014.
"We had to create everything from scratch, which included writing (web) scripts for logging into the application, encrypting the passwords, creating and structuring our database, fetch data from our database, and tons of more scripts," said Fadi George, a Course Key designer and programmer.
The business team chose a logo with a green background to symbolize their intent to eliminate paper waste from hard-copy syllabi and quizzes, George added.
Course Key Chief Operating Officer Ryan Vanshur said the biggest challenge the group faced was a general lack of knowledge and skill.
"We found we had no clue how to really manage a software development project, so we brought in industry professionals as mentors to help our business team understand more of the technical side of things," he said.
The Zahn Innovation Center provided some of these mentors that helped guide them in the right direction.
The team said demand for the software has increased, but they are still continuing to make improvements.
"Investors, professors and developers all expect us to come out with the next amazing app, and I believe we can do it," Course Key programmer Alex Salerno said.
Course Key has been utilized in multiple classrooms at SDSU since January. Based on a team study, there has been an 11-percent increase in attendance and a 32-percent increase in participation since classes began using Course Key, Sophinos said.
The Course Key team won the regional Global Student Entrepreneur Awards, the Zahn Challenge Audience Vote, and the SDSU Lavin Center's Lean Model Competition, where they collected more than $10,000 for future business expenses.