Ward works her way to the top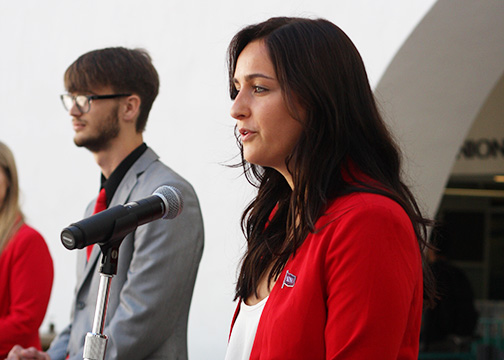 She begins her morning with breakfast, a prayer, meditation and the ambition to empower the students of San Diego State. She walks down Campanile Walkway with a vibrant and impactful energy. She is Blaire Ward, communications junior and Associated Students' incoming president.
"The unique thing about Blaire is her ability to connect with just about everyone she meets," incoming A.S. Vice President of University Affairs Andrea Byrd said. "It's hard not to get along with her because she has such a bright, sparkling and genuine personality."
Ward said she was timid and shy as a freshman. However, 60 percent of voters from the presidential pool on March 19 believed that she was the best candidate to lead the student community. The announcement of her election in Montezuma Hall, surrounded by her supporters, was Ward's favorite memory at SDSU by far.
Ward remembers the moment as a sophomore in high school when she was the last to hold her grandfather's hands as he passed.
"He looked into my eyes and said, 'Hey, make me proud, cause you can do it,'" Ward said. "He said that to me and no one else."
She said it was an impactful experience for her because he was an influential role model and a father figure in her life.
"You want to look back at your life and have people remember you as a happy, good energy, positive person," Ward said. "My grandfather was that person."
She went full force and became very involved in her academics. She didn't know where she was going and invested all her time in her work. Then someone tabling for A.S. pulled her aside and encouraged her to get involved student government.
"I joined this program where I was fostered by people who believed in me, more than I believed in myself," Ward said. "They took me under their wing and wanted to make me a better leader."
As the College of Professional Studies and Fine Arts representative during her sophomore year, two significant issues arose on campus. Ward sat at a table of leaders discussing the student success fee and divestment. She realized the power of the student voice and how it can make a difference with A.S. as a platform.
"I really dived in (on these issues) and I cared so much about these students," Ward said. "It was the first time in my life I felt so passionate about making sure that this organization was in the right hands in the future."
As a $24.8 million organization that runs all the facilities on campus, advocates for the student voice and practices shared governance, Ward said A.S. was the next step in her growth as a leader. Her passion for the student voice motivated her to run for presidency.
"I became president of A.S because that's where I decided to put my time," Ward said. "If you put your time in the right place, then you'll get to where you want to go. Sometimes the world isn't fair, but we're lucky at SDSU that most students can jump into opportunities and succeed. I want to make sure all students have that."
Byrd said she enjoys working with Blaire because she is a visionary.
"She knows exactly where she wants to lead this organization and I am fully confident she will reach her goals," Byrd said. "She is ambitious, hard working and very intelligent. She always contributes to team conversations – whether that is praising someone or delivering feedback – listens to what we all have to say and always asks for ways to improve personally and professionally."
Ward said she is passionate about empowering and engaging people. She believes that college students have insecurities or have areas they can improve in and getting involved in an organization provides opportunity for such growth.
"I joined an organization and came out with confidence and self worth," Ward said. "I want students to have that experience and room to grow."
Campus issues such as sexual assault and student divestment top the list of priorities, Ward said.
"If you're in a leadership role, you're a microphone for everyone else," she said. "If this is a priority to students, it becomes my priority."
However, moderation is key to everything, and Ward made the promise not to overextend herself.
"My mantra is to take time for myself every day," Ward said. "Whether it be reading, watching "The Office" or "Parks and Rec," taking a walk or spending time with family and friends on the phone."
Ward said she believes that character is measured by how you act during a crisis. She said that life is a roller coaster with ups and downs, but the way you respond and learn from it is powerful.
"Every experience, good or bad, is a positive one," she said. "I think the biggest learning lesson for me is realizing to take things as they come."