Zahn Innovation Center continues success in new location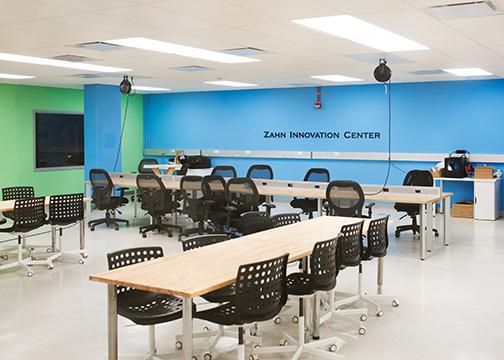 Over the summer, the San Diego State Zahn Innovation Center found a new home in the Education and Business Administration Building where it has continued to foster entrepreneurial growth for several student-run businesses.
The Zahn Center moved from the Engineering Building to its new colorful and airy space in June. The new center is nearly double the size of its previous spot and has an open working area that makes it easy for teams to collaborate. On one side of the center, there is the H.G. Fenton Idea Lab and a conference room, and the other side features a "quiet room" and team room.
"This is our interim home, and we're very happy with it," said Cathy Pucher, executive director of the Zahn Center. "It's bright and open."
Along with the new space, the Zahn Center has seen significant growth for some of its teams. One particularly successful team is TOVIFIT, an online platform that brings personalized wellness plans to businesses hoping to encourage health among its employees. The company was started by MBA graduate student Joel D'Eon while he was attending SDSU and has recently received $500,000 from local investors.
"It's the biggest investment that we've gotten at the Zahn Center, absolutely," Pucher said.
Another company that is flourishing with the help of the center is CourseKey, a classroom management program that changes the way students and professors communicate. It offers classroom chat features so students can ask questions and set up study groups, as well as providing interfaces for teacher-student communication. CourseKey was started by SDSU student Luke Sophinos, who studies communication, marketing and international entrepreneurship.
"They have a really great team," Pucher said. "They work out of the center on a regular basis. They're doing an over 5,000 student pilot in the fall. They've even been getting word of mouth, where professors will come to them and say they want it in their classroom."
Vena, a company building a device that collects condensed water vapor from the atmosphere to replenish wells, is in the process of raising $200,000 to build their first full-scale product. The company was started by John Walsh, a SDSU student studying international business, sustainability, and international finance.
"It's a really exciting time for us," Pucher said. "We're four years old and we're just getting to a point where our teams are going out for early stage funding, and pretty significant amounts at that. It's a really incredible sign in terms of momentum and progress."
Looking forward, Pucher hopes that more teams will work in the center.
"One of the things we think is valuable about being in the center is the community of like-minded people, so one of our ideas is that all the teams are working from the Zahn Center once or twice a week," she said. "We think that by having them here on a regular basis, their team dynamics will be enhanced, their progress will be accelerated and things will happen organically by like-minded people being together."
The Education and Business Administration building will not be the Zahn Center's permanent home. The center will move again in January 2018 when the Engineering and Interdisciplinary Sciences Building is completed. The E.I.S. space will be about 4,000 square feet, and will be shared between the Zahn Center and the Lavin Entrepreneurship Center.
The Zahn Center is accepting applications until August 10, and Pucher said there will be another application cycle during the fall semester.