What Chargers stadium issue? SDSU's JAM Center almost finished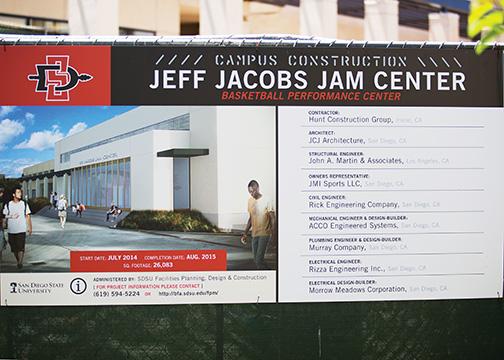 While the San Diego Chargers bicker about not getting a replacement for antiquated Qualcomm Stadium, the San Diego State men's and women's basketball teams will soon have a shiny, brand new, state-of-the-art practice facility to rival those in college basketball's upper echelon: the Jeff Jacobs JAM Center.
The JAM Center is nearly complete. Barring any major setbacks, it will open in a couple weeks to the players, coaches and trainers. A formal ribbon-cutting ceremony is projected for early September.
"There's been a big push this last week to take care of naming and branding stuff, but all the big things are done so it's pretty functional," SDSU Athletic Director Jim Sterk said.
Men's basketball head coach Steve Fisher, women's basketball head coach Stacie Terry, donors and other university officials spoke highly of the facility at the groundbreaking ceremony last August and will  have a chance to start using their new facility before it officially opens.
Sterk said that there will be a "soft open" in late August for the teams and donors to use and check out the new facility before its public unveiling sometime in the fall.
The basketball practice facility is located right between the SDSU athletic department and parking structure 5 on the west side of campus by the football practice fields. It measures 23,500 square feet and has many amenities such as locker rooms, film rooms, an athletic training room and team lounges.
"(Practice facilities) are pretty common right now so when I came five-and-a-half years ago that was one of the first things coach Fisher said, 'Jim, we need a practice facility.'" Sterk said. "Especially when you have a facility that is multipurpose the way Viejas (Arena) is, you don't always have the control to let the student athletes practice."
Not even former Aztec and current San Antonio Spurs star Kawhi Leonard had a place to practice at times.
"One time I had the police chief tell me that one of his officers had (Leonard) trying to get into Peterson Gym at night just trying to go shoot around while he was with the Spurs," Sterk said.
The structure and backbone of the facility have been long completed. What remains now for the $15.5 million facility is the finishing touches inside and outside. The two practice courts were installed in June and have already been painted, as have the murals inside the center.
"I Believe That We Will Win" is plastered on one wall. The Show, SDSU's boisterous student section, is painted on another wall.
The obvious impact of the new facility is another place for Fisher and Terry to show off to recruits when they come visit San Diego State, which is already attracting top players on both teams.
"No one has a situation that's better than us," Sterk said. "They can't use (not having a facility) against us. There's no excuse not to come here."
Surprisingly, the project didn't rely heavily on public dollars. Jeff Jacobs, son of Qualcomm co-founder Irwin Jacobs, gave the initial $1 million gift for the center. Jacobs later gave another $500,000, both donations were part of $12.5 million.
"Those were key guys to get the project moving forward so we could move to a broader base of people for support," Sterk said.
They were still $2 million short.
Fisher implored the crowd that had gathered to get their friends to donate some money and "get this thing in the black." Eventually, the $2 million was raised with most of it coming from private sources.
In June, the San Diego Union-Tribune reported that the university gave an undisclosed amount of money to the project, with that figure being in the region of $1 million, although it's not clear if the money was public funds.