SDSU tight ends have work to do, Brunskill leading pack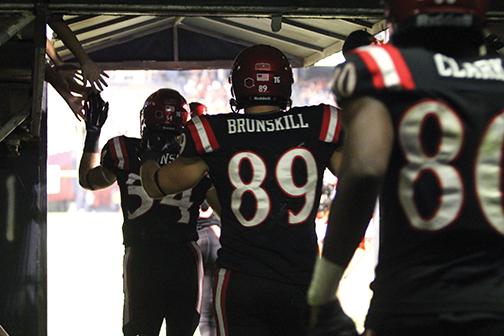 Initially recruited as an offensive lineman to San Diego State, junior Daniel Brunskill is making good impressions at tight end, one of the less glamorous positions on the field. SDSU football didn't always use a tight end last year, but this year the idea is the Aztecs might use them more.
And there's a lot the current crop of tight ends can improve upon.
"We're doing all right in the run game, but we (tight ends) still need to be a lot more physical because we have to be that dominating force," Brunskill said.
Even though Brunskill said he needs to work a lot more on receiving, the coaches were quick to praise him at camp Monday.
"When we first put him there, he couldn't catch a pass," head coach Rocky Long said. "Now he's really reliable and catches everything."
Brunskill is by far the best blocker of the four and without a doubt the most experienced.
Sophomore Darryl Richardson was a quarterback in high school, sophomore David Wells played special teams last year and freshman Kahale Warring played water polo until his senior year in high school.
It was apparent during 11-on-11 drills that the tight ends were getting outmatched on blocking by the very physical SDSU defense. But that might be the most helpful thing for the tight ends.
"Our defense is great," Brunskill said. "You've got to really be focused to get your assignment right because they're all over the place."
SDSU's stable of running backs could take a hit
Sophomore running back Marcus Stamps wore a boot on his right foot during Monday's practice. Long is hopeful the injury is a simple foot sprain and not a Lisfranc injury that hampered defensive lineman Alex Barrett last season.
A Lisfranc injury occurs in the middle of the foot, usually on the bottom, when either the midfoot joints are fractured or the ligaments supporting the midfoot are torn.
If Stamps does have a foot sprain, he'll sit out a week to 10 days. If it's a Lisfranc injury, then Stamps could face surgery and possibly three months on the sidelines.
Fortunately for the Aztecs, they have three — maybe even four — running backs still on the depth chart with junior Donnel Pumphrey, senior Chase Price and sophomore Rashaad Penny.
Incoming freshman Juwan Washington has displayed speed and an ability to make tacklers miss so far in drills, but it's unknown if he'll be redshirted. Pumphrey spoke very highly of Washington in last week's press conference.
The Aztecs' position-changing carousel
Remember Nick Bawden, the quarterback who filled in last year when Quinn Kaehler injured his shoulder? Now a sophomore, Bawden was converted to fullback last week. Junior defensive end Micah Seau has joined Bawden at fullback.
Seau began at SDSU as a linebacker, moved to defensive end in the spring and is now the third fullback. The move continues SDSU's tendency to switch players' positions.
Senior Robert Craighead, for instance, came to Montezuma Mesa as a defensive lineman, then caught four passes for 42 yards and a touchdown last season as a tight end and is now competing for a starting job on the offensive line.
And don't forget sophomore Chase Favreau, one of the projected starting wide receivers, who was originally recruited as a quarterback.
Quotable
Long on wondering how to spell and pronounce "Lisfranc."
"Oh, I don't know, I'm not a doctor!" he said, laughing.