SDSU alum Whitney Ashley set for IAAF Championships in Beijing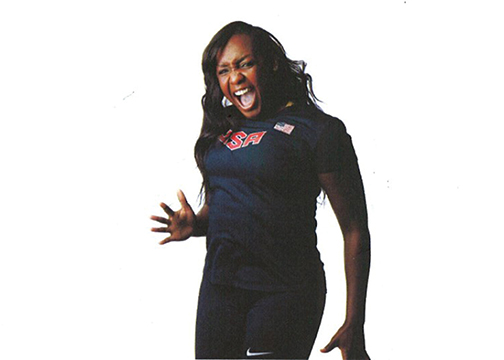 "It's indescribable, I just have to pause for a moment and realize that's my child out there competing," said Angela Washington, mother of 2012 San Diego State track and field alumnus Whitney Ashley.
Those are the words Ms. Washington used to describe watching her daughter in competitions.
While many parents can relate to those feelings, few can relate to watching their child compete in the IAAF World Championships at the Bird's Nest National Stadium in Beijing, China.
That is exactly where Ashley will compete next week in the women's discus event for Team USA. She qualified for the event after finishing second at the recent U.S. Outdoor Track and Field National Championships with a throw of 62.21 meters.
Ashley has not always been interested in the discus event. In fact, if not for her mom, Ashley may not have even competed in track and field at all.
That is because her mom also served as her very first track and field coach. Washington coached at John W. North High School in Riverside, California, and was the first to introduce Ashley to discus throwing.
"My mother is the reason I even picked up an implement," Ashley said. "She had a passion to coach and she saw that I could do great things. I accredit her with much of my success."
During high school, Ashley started her throwing career with the shot put event and only tried discus by coincidence. The team had no discus throwers, so her mom convinced her to give it a try even though Ashley was not too keen on the idea.
"I saw her hold a discus for the first time and not even know what it was called or how to hold it," Washington said.
Despite the her initial resistance, Ashley found success in this new event and won a state championship in the discus while at Cerritos College in 2008.
However, it still took years before she finally had the confidence to believe in herself as a discus thrower.
"I had zero confidence when I stepped foot on SDSU's campus," Ashley said. "My teammates and competitors were bigger, stronger and more experienced. I didn't even see myself as a winner until I won my first title."
"I faked it until I made it."
While she entered SDSU with little confidence, she continued to grow both personally and athletically throughout her time on Montezuma Mesa.
The coaches pushed her to focus on technique and she responded with farther throws. When it was finally time to graduate, Ashley was the 2012 NCAA Division I discus champion and the sky was the limit.
"SDSU is where I got my start and I learned a great deal about who I was and what I was made of," Ashley said. "I was surrounded by a staff who cared about me and wanted to see me succeed academically and athletically. It also helped that I was able to win a Division I title, my confidence shot through the roof and I am still confident to this day."
After college, Ashley has continued to grow as a thrower.
In 2013, she finished runner-up in the U.S. Outdoor Track and Field National Championships and also competed in the IAAF World Championships in Moscow, Russia.
Unfortunately, Moscow left much to be desired for Ashley as she failed to qualify out of her group and into the finals. So at this year's IAAF World Championships, Ashley is as motivated as ever and ready for redemption.
"I am better prepared this time around. I am more aware, throwing a lot further and much more experienced," Ashley said.
In spite of the challenges of the sport, her mom remains committed to supporting her. In fact, Washington attends every major competition her daughter competes in, including when Ashley will compete against the best in the world on Aug. 24-25 at the Bird's Nest.
As far as the Olympics are concerned, Ashley not only plans on competing in Rio de Janeiro, Brazil, in 2016, but also intends to medal there. No matter what happens, though, her country, fellow Aztecs and the one who has been there since the very beginning, her mom, will cheer her on.