SDSU football may use multiple quarterbacks in 2015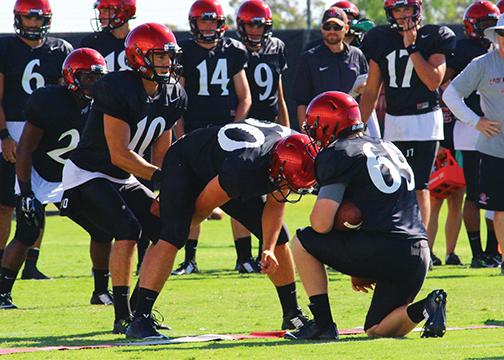 The lack of a starting quarterback has been the San Diego State football team's main storyline throughout the offseason.
Head coach Rocky Long and his staff have narrowed down the race to senior Maxwell Smith and redshirt sophomore Christian Chapman.
However, Long wouldn't be surprised if both quarterbacks received playing time this season.
"There are teams who are OK with two quarterbacks," he said Tuesday. "(Smith and Chapman) are so close right now I do see that as a possibility."
Long compared the situation to using pitchers in a baseball game.
"If he's having a bad day, you go out and put the other guy in and hope he has a good day," he said.
The race for the starting quarterback spot might not be resolved until the team's opener against the University of San Diego.
Smith undoubtedly has more NCAA experience while playing for Kentucky before transferring to SDSU in the spring.
However, Long isn't going to base the decision on the past experiences.
"If a young man has not been in your program, you don't base decisions on what he did some place else," he said. "He's got to prove that he's the guy."
As fall camp rolls on, Long said that the decision changes day-to-day and sometimes even from drill-to-drill during practice.
"I think it's a great competition which should make them both better, and overall, give us a better situation at quarterback."
All the same to Chase Price
Somebody who will be receiving handoffs from whoever the new quarterback is will be senior Chase Price, the backup running back to junior Donnel Pumphrey.
For Price, it doesn't matter who gets the starting role and, in fact, he likes the competition that goes on during practice.
"I don't think it plays a role. I actually think it makes (practice) more competitive," Price said. "You're always looking like, 'Man, who's going to make the play?' It's just whoever steps up and wants to be that guy."
Being on the same page as the quarterback is important for any running back, especially on a team like SDSU that runs the ball heavily.
As far as handing the ball off, Price thinks each quarterback does it about the same.
"They all do it very well," he said with a laugh.
Next up for the team is the fall scrimmage, which will take place Aug. 22 at Qualcomm Stadium.
It will be the last time the team scrimmages before its opener against USD on Sept. 5.