#AztecFB camp report: Heyward suffers injury on sluggish day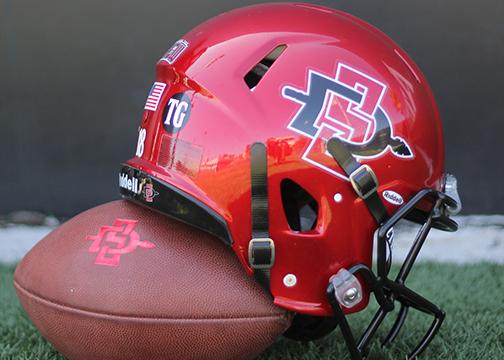 It didn't take long for the cracking of pads, bellowing of coaches and cheering of teammates to echo atop the Mesa on Tuesday morning as the San Diego State football team jumped straight into scrimmage after a quick special teams session.
However, it was clear that the previous 10 days of practice ran a toll on the players who began the scrimmage sluggish and a step slow. 
It didn't matter if the first team offense was running against the second team defense or head coach Rocky Long had his assistants mix the units; mistakes were being made on both sides of the ball.
Life was finally brought to the practice after the second-team defense forced a three-and-out, with two sacks against the redshirt-freshman quarterback Christian Chapman-led offense. The second-team defense continued the trend as sophomore cornerback Kalan Montgomery picked off freshman Ryan Agnew and returned it for a touchdown. 
Although the pick-six allowed the defense to cheer, it motivated the offense and a few plays later Chapman hit a darting junior wideout Lloyd Mills up the seam over junior starting safety Malik Smith for a 52-yard touchdown.
Unfortunately, for any of the offenses that was the lone bright spot, which earned them a spirited speech from offensive coordinator Jeff Horton at the end of practice, who specifically called out the offensive line's inability to protect the signal-caller.
Special teams didn't fare any better than the offense, as senior placekicker Donny Hageman missed both a PAT and a 46-yard field-goal attempt to end practice.
Heyward carted off with apparent knee injury
Due to extra precaution from the coaching staff — and luck — the Aztecs have avoided serious injuries this training camp, but that changed early in the scrimmage. 
Starting defensive tackle Christian Heyward went down after having his right leg rolled on in a pile that led to the senior reaching for his right knee. After trainers evaluated his knee, Heyward was carted off the field to undergo tests.
The former Point Loma High standout made a name for himself with the Aztecs late last season, leading the defensive line with 27 tackles over the final six games. The 6-foot-3, 300-pounder missed the first two games of last season recovering from surgery on his left knee.