SDSU basketball releases non-conference schedule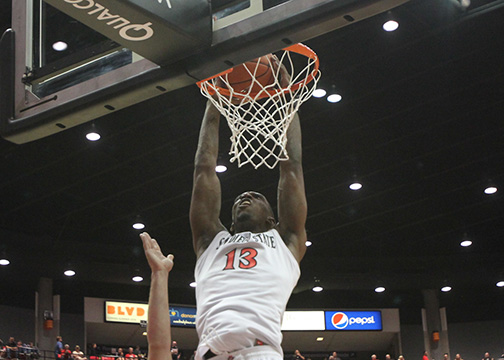 Similar to last year, San Diego State men's basketball won't have a whole lot of time to get ready for a loaded non-conference schedule.
Three of the Aztecs' non-conference opponents are in ESPN's "No-Longer-Way-Too-Early-Top-25." Two made the NCAA tournament last year, and depending on how the matchups shake out in the Continental Tire Las Vegas Invitational in November, the Aztecs might add a Sweet-16 team to that non-conference mix.
SDSU will undoubtedly be without redshirt-junior wing Matt Shrigley for the entire non-conference schedule. But they added local walk-on Ben Ramirez from San Marcos High to help ease the blow.
The Aztecs open with Cal State San Marcos in an exhibition on Nov. 2, followed by the regular-season opener 11 days later at Viejas Arena against Illinois State University, head coach Steve Fisher's alma mater. The Redbirds went 22-13 last year and lost in the second round of the NIT, but they scored an upset win over then-No. 8 Wichita State at the Missouri Valley Conference Tournament in March.
CSUSM is coming off a second straight 30-win season and an appearance in the NAIA quarterfinals.
The Aztecs will travel to Salt Lake City to take on the Univeristy of Utah in the return leg of a home-and-home series. SDSU beat the Utes 53-49 last year in a game that was part of ESPN's 24-hour College Hoops Tip-off Marathon.
Utah's star player, Delon Wright, has graduated from a Utes team that made the Sweet 16 before losing to eventual national champion Duke University.
Home games against San Diego Chirstian, University of Arkansas at Little Rock and East Carolina University follow the Utah game before the Continental Tire Las Vegas Invitational.
The Aztecs open the invitational against UC Berkeley, which is ranked No. 12 in ESPN's "No-Longer-Way-Too-Early-Top-25." Cal loaded up on talented recruits this offseason, bringing in elite guard Jaylen Brown and local power forward Ivan Rabb.
SDSU travels to Long Beach State on Dec. 1 to take on a 49ers squad that nearly pulled off a monumental upset last year in Viejas Arena. Then it's the City Rivalry on Dec. 5 against University of San Diego, which is being played at Petco Park this year.
Two home games follow after the Toreros matchup, including an intriguing matchup with Grand Canyon University, which upset University of New Mexico last year and finished second in the Western Athletic Conference.
The finale, however, is the return leg of the Aztecs' highest profile home-and-home series: University of Kansas, ranked No. 5 in the ESPN preseason poll.
SDSU famously knocked off the Jayhawks two seasons ago in Lawrence, Kansas in a win that propelled the Aztecs into the national spotlight yet again.
The Jayhawks won the Big 12 regular-season title last year for the 11th straight season, but were upset by Wichita State in the second round of the NCAA tournament.