SDSU ramping up sustainability efforts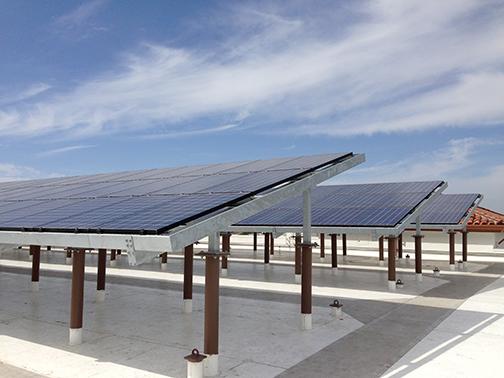 A national climate sustainability initiative has San Diego State increasing efforts to lower its carbon footprint.
The American College and University Presidents' Climate Commitment is a simultaneous effort involving campuses across the nation that aim to bring their greenhouse gas emissions to zero.
The program focuses on four main components: energy, transportation, water and waste.
Assistant Director of Campus Sustainability Tom Abram said students, staff and faculty on SDSU's Climate Action Planning Council are responsible for developing and approving a sustainability plan.
"We are currently in the initial phases of these efforts, including collecting baseline data and developing a culture and network of sustainability on campus," Abram said. "While the process is still in the early phases, it has already begun to shift campus culture by providing a focal point for sustainability issues."
The council looks for new ways SDSU can reach their carbon neutrality goal.
There are a variety of projects within the four main components of energy, transportation, water and waste.
SDSU's landscaping department has done its part to conserve water.
"We are in the process of retrofitting our infrastructure," Landscape Service Manager Joshua Koss said.
The landscaping department is replacing spray nozzles with more efficient nozzles and ensuring trees planted in grass areas are getting the proper amount of water — important because trees provide shade, which reduces the water needed by plants around them, Koss said.
The June 2015 campus water bill was 40 percent less than it was in June 2013. SDSU also saw 30-percent savings in July 2015 compared to July 2013.
The landscaping department is frequently introducing oxygen to the soil on campus and using organic  nutrients and fertilizer to help plants grow.
SDSU is also pushing a recycling effort.
According to the waste management company EDCO Disposal, SDSU recycled 6.3 tons of cardboard and other packaging material, as well as 750 pounds of plastic, during the weekend students moved into dorms.
The move-in recycling project is just one of many created by the council.
SDSU's facility services believes sustainability should play an important role on campus.
"Sustainability is acting in a way that we can meet the needs of the present without compromising the needs of future generations," Abram said. "To me, sustainability is everything. It's the future. SDSU needs to make sure that students are prepared, aware and skilled in sustainability areas."
The university is working to ensure new buildings meet the needs of the students, but also comply with SDSU's sustainability goals.
The Conrad Prebys Aztec Student Union already received a Leadership in Energy and Environmental Design (LEED) platinum certification.  
Developers of SDSU's new engineering building (expected to be completed by fall 2018) are aiming for another LEED certification.