SDSU cross country flies under the radar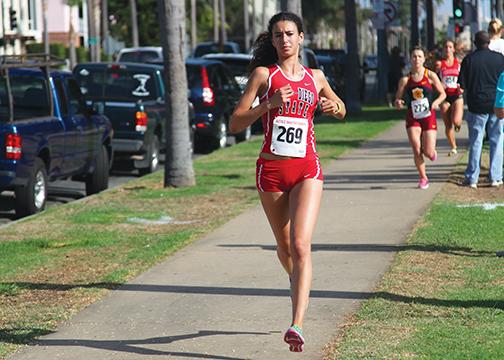 As summer comes to an end and Montezuma Mesa once again becomes a traffic nightmare, the San Diego State sports spotlight shines ever so brightly on one team.
SDSU football.
There are hundreds of other Aztec athletes competing during the fall season, but most remain anonymous to the massive SDSU student population.
One such team is women's cross country.
This tight-knit group consists of nine women who compete in a sport that many people dread.
Long-distance running.
Last year, the team wrapped up its season by finishing 27th out of 34 teams at the NCAA West Regionals in Palo Alto.
This year, head coach Shelia Burrell is looking for stronger results and believes she has the athletes to do make that happen.
"This season there has been a new coaching change and things are going really well so far," Burrell said. "Our top five girls are as good as we have ever been at San Diego State."
Burrell said she expects these top five runners to all post personal-best times this year.
She also stressed that patience is the key for this season.
"The first half of the season we will be 'loaded-up,' meaning we will still be training through those meets," Burrell said. "Then at the Mountain West meet in Reno, we will 'unload' and have fresh legs to go out and compete well."
For cross country, the end of the season is what matters the most.
While showing good results at early meets is good for confidence, runners want to be at their best during the end of October, when the MW championships are held.
To accomplish this, they must endure countless, long and grueling workouts.
They show extreme strength and endurance during the course of an entire season and their strict training regimen proves that.
They train two times a day, which includes lifting weights, core workouts and, of course, lots of running.
Even though cross country races only range from 3-4 miles, Burrell said some of the best runners on her team will run as many as 60-70 miles per week.
To put that in perspective, that would be around the same as running almost three marathons in one week.
What's even more astounding is that peak training season for cross country happens to be in the middle of the summer heat.
With their first meet coming up this Saturday, Sept. 5, at the Mark Covert Classic Invitational, the team needs to be in prime running condition at the end of summer.
It takes a mentally-tough athlete to run upwards of 50 miles per week in the middle of summer.
With such discipline, it should be no surprise that this team is one of the highest academically-achieving teams on campus.
The team has a cumulative GPA of 3.19, and four of the nine runners were recently named 2014-15 MW Scholar Athletes.
By comparison, three of SDSU football's 85 scholarship athletes made the same list.
Nevertheless, this Saturday the eyes of the SDSU community will be focused on Aztec football's season opener against University of San Diego at the archaic Qualcomm Stadium.
Plays will be critiqued and differing opinions made on who should or should not start.
On the same day, this small team of Aztecs will quietly begin its season in Orange County at Carbon Canyon Regional Park.
The cross country team will be going about its business with the same intensity and dedication, just without the hype and attention.
"I am really excited for this year. The difference between last year and this year is that the team is much more cohesive," Burrell said. "Those top five girls have had the opportunity to bond together and to train and compete as a unit."