SDSU football dispatches USD 37-3 in season opener
This was not a surprise.
In fact, nothing about this game came as a shocker.
"We won," head coach Rocky Long said. "We were supposed to win."
The more talented and deeper San Diego State easily handled its intra-city rival University of San Diego and won 37-3 Saturday evening at Qualcomm Stadium.
It was made abundantly clear early in the game that the hype surrounding SDSU's defense is legitimate, albeit against a non-scholarship Football Championship Subdivision program.
"I think the defense had a good day, but you ought to have a good day if you have better players," Long said.
However, that does not take away from the spectacular play from the defense that only allowed 193 yards and forced six turnovers.
Junior linebacker Calvin Munson and junior cornerback Damontae Kazee led the defense for most of the night and came up with the unit's biggest plays.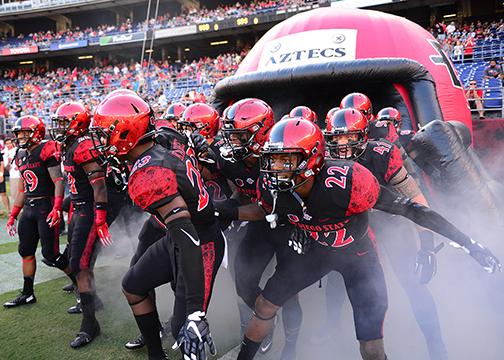 Munson continued his dominance from a season ago and led the team in tackles (11), sacks (one) and tackles for loss (2.5), while also scoring the first touchdown of the game, picking off Toreros' senior quarterback Trey Wheeler for a 19-yard touchdown.
Not to be outdone, Kazee shutdown the Toreros passing game almost exclusively with three interceptions.
"I think (Kazee) did a great job," Long said. "He has a knack for finding the ball in the air. He has pretty good hands."
After Kazee's first pick, the Aztec offense came alive and drove 98 yards on a 12-play drive that was spearheaded by senior running back Chase Price and capped off by junior running back Donnel Pumphrey's 5-yard touchdown scamper that put the Aztecs up 14-0, which would be the last offensive touchdown of the game.
After that drive, the Aztecs were quiet offensively in the first half, only managing 64 yards on four drives. But two ended with junior kicker Donny Hageman booting a pair of field goals to put the Aztecs up 20-0 at the half.
Graduate-transfer Maxwell Smith's opening game as quarterback was forgettable, to say the least. He threw for 100 yards, zero touchdowns and one interception on a 9-21 clip. The offense, as a whole, struggled all night and only managed one field goal the entire second half.
"I know I have to play a lot harder," Smith said. "I have to throw the ball a lot better. I don't know what it was, but whatever it was I am going to have to practice much harder and play much better."
Sophmore running back Rashad Penny scored the first special teams touchdown of the year, taking the second-half opening kickoff 97 yards to the house to put the Aztecs up 27-0.
"That's great special teams play," Long said. "In fact, I saw the two flags on the field and figured we were holding or something I didn't know it was on them. I was disappointed until I heard it was on them over the loud speaker."
Munson continued his dominance and scored the final touchdown for the Aztecs by picking off Wheeler a second time for a 67-yard pick-six.
"A big credit to the (defensive line) and all the guys that blocked for me on those two picks," Munson said. "Damontae Kazee had a great block on that second one, without him I don't know if I would have brought it back. But a lot of credit to the defense we played together as a defense tonight."
Regardless, the Aztecs did what they came to accomplish Saturday, and that was to get the victory. Now on the road to UC Berkeley next Saturday.