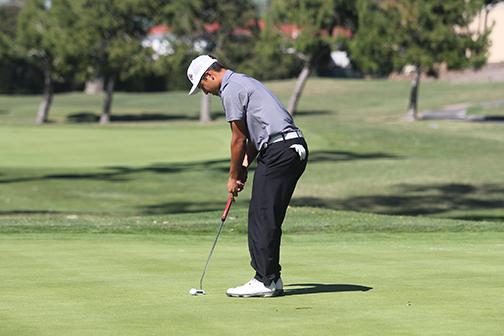 It's easy to get caught daydreaming around the beautiful scenery at Poppy Hills Golf Course in Pebble Beach, which has played host to the PGA Tour's AT&T Pebble Beach Pro-Am from 1991-2009.
It was also the location for San Diego State mens golf's season-opening tournament and it was clear from start of the tournament that SDSU came into the Saint Mary's Invitational with the right mind-set and no distractions. The Aztecs looked consistently dominant throughout the three-day tournament.
The Aztecs came into the tournament ranked No. 32 in the country and figured to be in contention for this tournament title and any tournament they play in this year.
The team finished day one in second place and had a total first round score of (+3), trailing only the host of the tournament Saint Mary's College of California by eight strokes. But on day two, SDSU made its move as three players finished in the top 10.
This catapulted the team into first place and firmly in control of the tournament at (-2), well ahead of top competitor Saint Mary's, who dropped a shocking 10 strokes and ended day two at (+5) as a team.
This gap provided on day two proved to be enough to keep the Aztecs in first place and win the tournament finishing with a score of 851 strokes. The two next best scores came from Saint Mary's, who came in second at (+3), and Oregon State, who was much further behind at (+17).
Winning this tournament is a great start to the season, and this should be a sign of things to come since SDSU returns four starters from last year's team.
"We have eight to nine guys capable of making an impact this year," senior Riccardo Michelini said.
The team's depth was proven to be a factor in this tournament in which SDSU had three individuals place in the top 10 individually. Seniors Ryann Ree and Michelini and sophomore Brian Song all played a huge role in the tournament. Those three finished in the top 10.
Song had the best tournament of all the Aztecs, finishing tied for fourth with a three-round score of (-1), four strokes behind the individual winner of the event, senior Sean Walsh from Gonzaga, who finished at (-5).
Meanwhile, 2014 U.S. Amateur champion Gunn Yang also made his return to the scarlet-and-black lineup. Yang started the tournament with flashes of his championship form on day one, staying in contention for the individual lead. However, his play declined as the tournament went on and he fell apart on day three, shooting a mediocre 78 after entering the day in a tie for third.
Winning the Saint Mary's Invitational sets a solid tone for the rest of the season. This win also makes it 29 tournaments won in head coach Ryan Donovan's successful 13 years at SDSU.
"It was a great team win and the start we were hoping for this season. All five guys contributed throughout the tournament, which was awesome," assistant coach Evan Emerick said. "We will enjoy this win, but got to get ready for New Mexico next week which we are excited about."
The Aztecs will look for another win away from home when they return to the course on Sept. 26 when they head to Albuquerque, New Mexico, for the William H. Tucker Invitational hosted by the University of New Mexico.