SDSU crime and incident report: Weapon on campus, burglary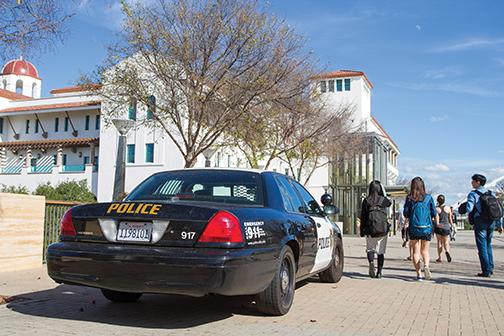 Brandishing a weapon
An altercation involving three suspects occurred on Aztec Circle Drive near the Education and Business Administration building at 6 p.m. on Friday, Oct. 9.
One suspect retrieved a black handgun from a backpack in a white Toyota Tacoma, San Diego State police said.
The gun was not pointed at anyone, according to witnesses.
SDSU police sent a community safety alert to students.
Suspicious person
Two subjects attempted to steal bicycles at the Zura Residence Hall bike racks shortly after midnight on Saturday, Oct. 10.
They fled before officers arrived.
All members of the SDSU community can register their bicycles at the SDSU Police Station and will be provided a free Kryptonite U-Lock, according to SDSU Police.
Burglary
A computer, laptop, cellphone and keys were stolen from an unlocked apartment at the Sanctuary Apartments on Hardy Avenue.
The report was made after midnight on Sunday, Oct. 11, according to SDSU police.
Disturbing the peace
There was reportedly a person with a weapon by the Calpulli Center around 1:20 a.m. on Sunday, Oct. 11.
Officers determined there was no weapon, but a victim reported being battered by another subject, Cpl. Mark Peterson said.
A misdemeanor citation was given.