Series on women empowerment comes to SDSU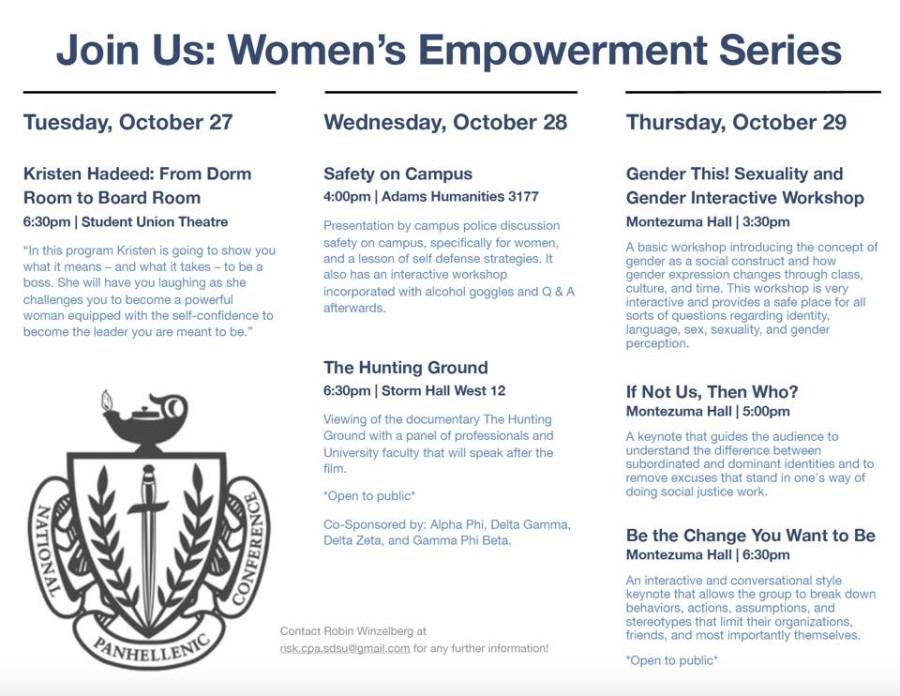 San Diego State's Panhellenic Association organized a Women's Empowerment Series with several speakers and a movie screening last week.
The series was run by Robin Winzelberg, director of risk management for the association.
The first speaker, Kristen Hadeed, presented a talk called "From Dorm Room to Board" about her journey in becoming a CEO after starting her own business in her college dorm room to help make money.
Campus police discussed on-campus safety and a screening of the documentary, "The Hunting Ground" focused on sexual assault and harassment.
There were three events with Jessica Pettit, a professional speaker and alumna of Delta Gamma, on Thursday. The first event was a gender and sexuality interactive workshop. Her second event was a keynote on burnout in leadership positions and in the third, she spoke about being the change you want to be.
Winzelberg planned the series so each day had a different perspective on ways to empower women and make sure they kept pushing themselves to do better. She said it's important for women to refocus and think on their goals for the future and keep towards their path.
"We need to focus on what really matters, not what outfit you're gonna wear or what party you're going to," Winzelberg said.
Pettit wanted to focus on empowerment so college students would feel like they are important. For her, especially because of ageism, younger people don't feel like they have enough experience to have an opinion. She hopes that people realize it's a process to change your life.
"Instead of trying to be perfect, I hope people who hear my message, including myself, we just hope to do the best that we can, some of the time," Pettit said.
It's important to notice behaviors that are not benefiting your life and figure out where they came from and how to fix them, she said.