Malik Pope finds his comfort zone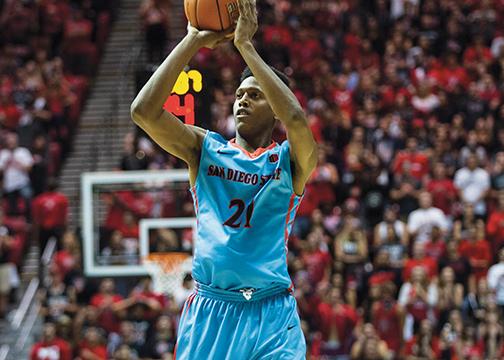 by Ryan Posner, Assistant Sports Editor
November 4, 2015
San Diego State men's basketball sophomore forward Malik Pope is a captivating figure wherever he goes.
Maybe it's his towering 6-foot-10 frame.
Maybe it's the highlight reel dunks he put together his freshman year.
Or maybe it's his iconic flattop, which he believes is becoming a trademark.
"I wish they included it in my height, because I would be a smooth 7-1, 7-2, that would help me a lot," Pope said with a laugh.
Believe it or not, Pope's rim-rattling dunks and sparkling alley-oops may just be the tip of the iceberg for what people can expect from him going further.
In his second year, he expects to play more comfortably with a year under his belt.
"Being on that court more, that makes me feel more comfortable," he said. "This last year, I was shy on the court. Coach (Steve Fisher) was trying to get me at my comfort level."
Comfort is a big factor for Pope, and not just on the basketball court.
At Laguna Creek High in Sacramento, he suffered two broken legs, costing him his entire senior season and giving him a new perspective on pain.
"To be honest, after a while I just forget that even happened. I don't know how I do that, but I just forget that it happened," Pope said. "It was just a crazy experience because that was a pain I'd never really felt before and I definitely don't want to experience again. That was tough."
His mother and brothers comforted him while he was forced to spend an entire month on the couch, and provided support through his rehab process.
If it wasn't for them, Pope's basketball career may have been cut short before it ever really started.
"The idea (of quitting) crossed my head but it didn't stay there too long, it was just like a hot potato. It would bounce (into my head) then it bounced right out," Pope said.
"(My family) was there hand-in-hand. I wouldn't be sitting there without my mom or brothers just trying to help me."
When it came to picking a school to go to — a process made more stressful without a senior year on his resume — Pope was looking for that same comfort level that his family provided him while he was injured.
SDSU assistant coach Justin Hutson gained Pope's trust over coaches from schools like University of Kansas by using unique selling points.
"(Hutson) told me I'm going to come here and get one of the best experiences for an education and that school is honestly just as important as basketball. That hit me," Pope said. "Not a lot of recruiting coaches talked to me like that. They just tell you, 'You'll come to our school and start.' You can't tell someone they're going to start before they even practice."
Pope will get a chance to play Kansas this season at Viejas Arena, a game that he said is "double-circled" on his calendar.
Now at SDSU, Pope has looked to his teammates as brothers, who he can trust with anything, just like his brothers back in Sacramento.
Two of his closest friends on the team are sophomore guard Trey Kell and redshirt-freshman forward Zylan Cheatham.
The trio live together and it's easy to detect the chemistry between them just by standing in the same room as them.
"I don't see them any different than my actual brothers at home. It's a good deal," Pope said. "It definitely helps us on the court too, like trusting each other and knowing we got each others' backs, no matter the situation."
This year will mark this first season Cheatham and Pope will be on the floor together during a game, after a foot injury led Cheatham to be redshirted last year.
Pope expects big things out of Cheatham, who just like Pope, is known to throw down thunderous dunks.
"Everyone calls him 'The Animal,' and that is an accurate statement," Pope said.  "Honestly, he's thrown down every dunk I can think of."
Despite averaging 14.8 minutes a game last season, there was discussion Pope had the possibility to be selected in the 2015 NBA Draft.
That prospect genuinely surprised Pope, but he ultimately decided to stay where his comfort level would be the highest — back at SDSU.
"I was thinking, 'This is really crazy, I'm actually projected to get picked,'" Pope said.
It's remarkable to think Pope may just be getting into his comfort zone as an Aztec, even after he put together some of the flashiest dunks and alley-oops that Viejas Arena had ever laid eyes on last season.
"There were some highlights last year, weren't there?" Pope said, reflecting with a smile.
Indeed there were.
And by the looks of it, there should be plenty more on the way during his sophomore campaign.